How To Host An Easy Backyard Summer Picnic
This months dinner club tablescape was so fun to create! Every month 4 other blogger friends and I host a virtual dinner party. This month we decided on a picnic theme, and I can't wait to share with you how to host an easy backyard summer picnic.
If you are joining me from Simply 2 Moms, welcome! I am so glad you are here!

If you have missed our previous tablescapes you can see a few of them by clicking on the links below.
This post may contain affiliate links. You can see my full disclosure here.


My inspiration for the backyard summer picnic came from some cute lemon print dishtowels I found a few months ago. Then I stumbled across some lemon wedge paper napkins and decided my theme would be a citrus inspired picnic.
my inspiration
Don't you just love how bright and fresh lemons and the color yellow are??

Me too!! So, I was so excited to create this backyard summer picnic using lemons.

I wanted to keep my picnic simple and casual. So, instead of setting the table with place settings, I decided to use a smaller table and gather everything we would need for our picnic.

This way, everyone can grab a small plate, bamboo utensils and a drink.

And gathering chairs around in the backyard or sitting on a blanket would feel more like a traditional picnic.


I also wanted some lighting over my table to add a bit of ambiance in the evening hours, so I was thrilled to partner with AQ Lighting and hang some beautiful string lights over my table.




I just love how the lights look over my outdoor picnic table! It added such a magical feel to the space.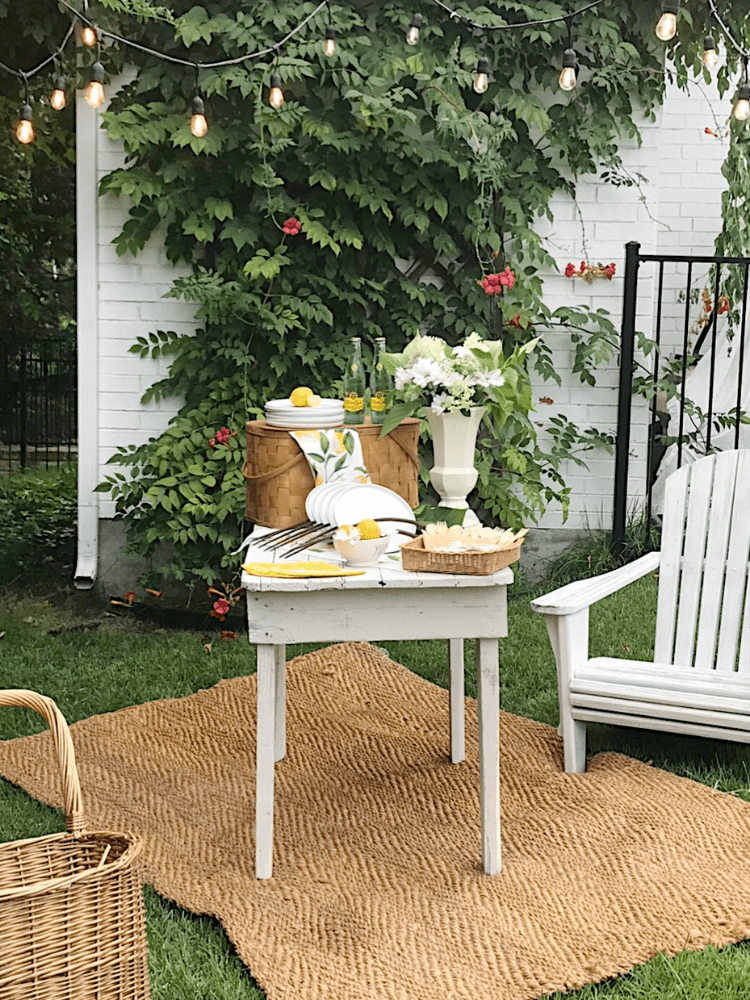 lemon inspired picnic table
I started with a small white vintage table that I recently did a makeover on. It was just the right size for my picnic essentials.


Since the picnic is in my backyard, I can set the food table up on my patio, which is nearby.

I purchased two of the lemon print dishcloths that were my inspiration pieces. I laid one of the towels across the top of the table on the diagonal, in place of a tablecloth or runner. Since my table is small, one cloth was plenty.

The other dishcloth is used to help carry out my theme, and draped over my vintage picnic basket. A dear friend recently gave me the picnic basket for my birthday. It was perfect timing for my backyard picnic!
In addition to the dish towels, I used whole lemons and a few daisies in a bowl and some pieces of greenery from my hydrangea bush for decoration.

The finishing touch was a bundle of grocery store daisies in a white vintage flower vase. I added a few Queen Anne's Lace flowers and Limelight Hydrangeas from my garden, as well. The white flowers blend nicely with my table decor, and the yellow centers are a nice pop of color to go along with my theme.
a cute DIY citrus inspired table runner


If you are a DIY'er, check out my friend Rachel's citrus print table runner. It is super cute and would be perfect for a summer tablescape.
plates, napkins and utensils for the picnic
I used a vintage hay fork to hold a few plates on the table, and the extra white plates are stacked on top of the picnic basket.


I ordered bamboo utensils which helps with clean up and also adds a nice touch of a natural element to my picnic table. The utensils are placed inside a brown paper sandwich bag, then I folded it in half and tied with a cute ribbon.


These super cute lemon wedge napkins were a dollar store find! I haven't been able to find them recently, but I have linked similar ones at the bottom of the post.


And I love Topo Chico and thought the colors of the bottle worked nicely with my theme. I will also be serving a Citrus Rosemary cocktail that I will be sharing with you on Saturday. In addition to our tablescapes, our dinner club shares the entire menu for our themed parties every month.

I hope you enjoyed seeing how to host an easy backyard summer picnic and I would love to hear if you have plans for a summer picnic.


a tip for hosting a picnic or barbeque


If you host an outdoor picnic or barbeque, you might like to add these lemon finger towels. They smell divine and are great for a messy barbeque or crab boil dinner. And they are so refreshing in the heat of the summer.




Be sure and pop over to Stacy at Bricks N Blooms next, and see her amazing picnic ideas. Then follow along with the links to the other ladies for lots more inspiration!

blessings and happy picnicing,
michele



If you like this post, be sure and Pin It to remember it…..
shop the post


Be sure and subscribe to the blog, so you don't miss a thing! You can also follow along on Instagram, Facebook, and Pinterest.