How To Set A Fabulous Pie Buffet Table for Thanksgiving
With the holidays right around the corner, I want to share some ideas and inspiration with you for how to set a fabulous pie buffet table for Thanksgiving.

If you are hosting Thanksgiving dinner, there is so much planning and preparation to do.

Having a self serve pie bar is a fun addition to your Thanksgiving get together.

And if you have some of your guests bring their favorite pie, it can cut down some of the work and cooking for you.
This post contains affiliate links which means if you purchase something, I make a small commission at no additional cost to you. Thank you for supporting my blog. You can read my full disclosure here.
It's tablescape day for my monthly dinner club, and this month we're hosting a pie party for Thanksgiving.

Instead of a typical dinner party tablescape and menu, we planned a pie bar/buffet and we each made a pie recipe.

If you missed my Pumpkin Buttermilk Pie with Cinnamon Whipped Cream recipe, you definitely need to try it out.


It's SO good, and sure to be a new favorite for your family too.
creating a pie buffet table centerpiece
For my Thanksgiving pie buffet table I used the dining table on my back patio.

The weather is typically very nice this time of year, so it will be fun to have a dessert table outdoors.

I opted for no tablecloth on my table, since I have a wood table and wanted a more natural and earthy look for the pie bar.

I bought a large cornucopia at a barn sale back in the spring and have been looking forward to using it for my Thanksgiving table.

It was the perfect starting point and inspiration piece for my Thanksgiving pie buffet.

I place the cornucopia down the center of the table and filled it with pumpkins and a few other fruits and veggies and even tucked in a few dried hydrangea blooms

Sweet potatoes and pears were a few that I chose.


The cornucopia was not in the best shape and somewhat falling apart so I had to handle it very carefully and prop it up on one of the risers I used for one of the pies.

But, it was such a great and unusual piece that I couldn't help but use it.

Goldenrod that I cut from my mom's property made a beautiful and natural looking floral arrangement.

I placed them inside my favorite brown transferware pitcher and it was the perfect addition to this fall table setting.

I added a few vintage brass candlesticks with tapers among the pies, because candles are always a good idea.

Candlelight adds a wonderful ambiance to a table setting and dinner party.

Dried oak leaves were sprinkled throughout the tablescape to add just another touch of fall.
displaying pies for a pie bar buffet

I added cake plates and risers of different heights for my pies.

Having the pies at different heights on the table creates interest .

As I mentioned, I wanted an earthy look, so I chose wood risers and also a couple of woven ones.

I have a huge wooden cake stand and a great antique carved riser that were perfect for the look I was going for.

Then, I added a woven beverage dispenser stand to act as a riser for a pie plate and I even turned a shallow basket upside down for a plate of mini pies.


Getting creative with things to use for my tablescapes is what makes the process and planning fun for me.

I added a label for each pie so that guests could easily identify each pie.

A bleached pinecone stood beside each cake stand with the pie label propped inside it.


If you don't know how to bleach pinecones, I have an easy tutorial for that. They are so beautiful for fall and holiday decor.

I changed up the pie display by serving a coconut pie, apple pie and pumpkin buttermilk pie in a regular 9-inch pie, and the pecan and pumpkin pies were a mini version.

I also made mini buttermilk pumpkin pies since this was a new addition to the Thanksgiving menu this year.
plates, napkins, flatware and mugs for a pie buffet
Since this is a dessert buffet table and not a typical dinner table setting, I opted for stacked plates.

These small plates with a white pumpkin pattern are my favorites for fall gatherings.

My gold flatware worked perfectly for this fall themed Thanksgiving table.

They were tucked inside a pretty brown striped ribbon that was tied around linen napkins and casually stacked beside the plates.

And of course, I had to use my white pumpkin mugs for the occasion.

Guests can grab a mug at the dessert table and have coffee with their pie.
frequently asked questions…
how many pies do I need for 20 people?
If you are making a standard 9″ pie, you will need about 1 pie per 6 guests.

It is typical for a guest to eat about a 3 inch wedge of pie, and a 9″ pie would have 6 wedges this size.

However, after a large meal like Thanksgiving, your guests may not eat quite as much dessert so you would probably be ok with 1 pie per 8 guests.

Based on these numbers, you would need 3-4 pies for 20 guests.
what are the most popular pies for Thanksgiving?
Pumpkin pie, sweet potato pie and pecan pie seem to be the most popular pies for Thanksgiving.

Chocolate pie, Apple Pie and Buttermilk pie are also holiday favorites.
how do you display pies for a party?
Use pretty cake stands of different heights to create interest for your pie buffet.

You can also use platters or cake plates set directly on the table, then create height with cake stands, or lift cake plates up on some sort of riser.

Be sure and include pie servers with each pie.
do you have to refrigerate pies?
Fruit pies do not have to be refrigerated, but and egg and dairy based pies need to be refrigerated.
Fruit pies can stay at room temperature for up to 2 days, then in the fridge for 2 more.
Egg and dairy-based pies can be stored in the fridge for up to 4 days.
basic ideas for setting a pie buffet
You can use any table or bar area to create a pie buffet or pie bar.

Your dining table, kitchen island or even a folding table will work just fine.

If you are using a card table or folding table, you might want to add a tablecloth to make a pretty presentation.

Next, add some cake stands or pedestals to add different heights to your pie bar.

You can get creative with this and use anything that will hold a pie plate.

For example, you could stack a few vintage books to create different heights.

Add a label to each pie so your guests will be able to identify each type of pie.

I printed labels on my computer and tucked them into bleached pinecones for my pie buffet table this year.


This is another idea for making labels or place cards. They are super easy and very festive for a fall or Thanksgiving gathering.

Finish off your pie buffet table with a few fall elements.

Leaves, pinecones, and pumpkins are just a few of the many things you could use to embellish your Thanksgiving pie table.
Hopefully, some of these tips for setting a dessert or pie buffet will help take some of the stress off of your preparations.

These ideas can easily adapt to your Christmas and New Year's tables, as well.

I hope you enjoyed these ideas for how to set a fabulous pie buffet table for Thanksgiving.

blessings and happy holiday season,
Check out all of my dinner club friends pie buffet tables for lots more ideas and inspiration.

Click the link at the bottom of each photo to see the post.
If you enjoyed this post, be sure and Pin It to Remember it…
shop the post

Photos by Farmhouse Living
If you would like more fall table setting ideas and inspiration…..
Ideas for Creating a Simple Fall Tablescape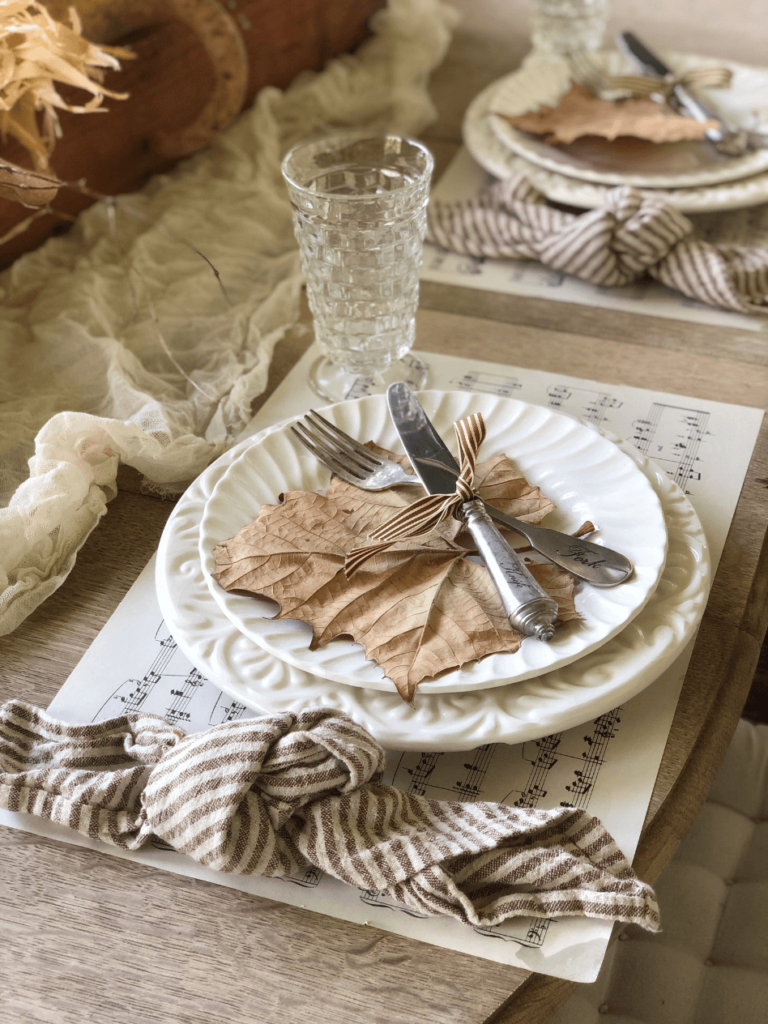 How To Create a Woodsy Tablescape for Fall
Ideas and Inspiration for Creating a Fall Tablescape