Saturday Morning Gather #14
gath•er: to come together or bring together into one group, collection or place
If you are new here, welcome and thanks so much for joining me!!
And if you've been around a while, as always, I am so grateful to you!!
Gather round and grab your coffee or favorite morning drink of choice and let's take a look at what's been happening this week.
on the blog
This week, on the blog, I shared how to bleach pinecones.

It is so easy and the results are beautiful!

I have been putting some winter decor out in my home, since I took down all of the Christmas.

Bleached pinecones are a perfect addition to your winter decor. I also use them for fall and Christmas decor. The blog post shows other ways I use them.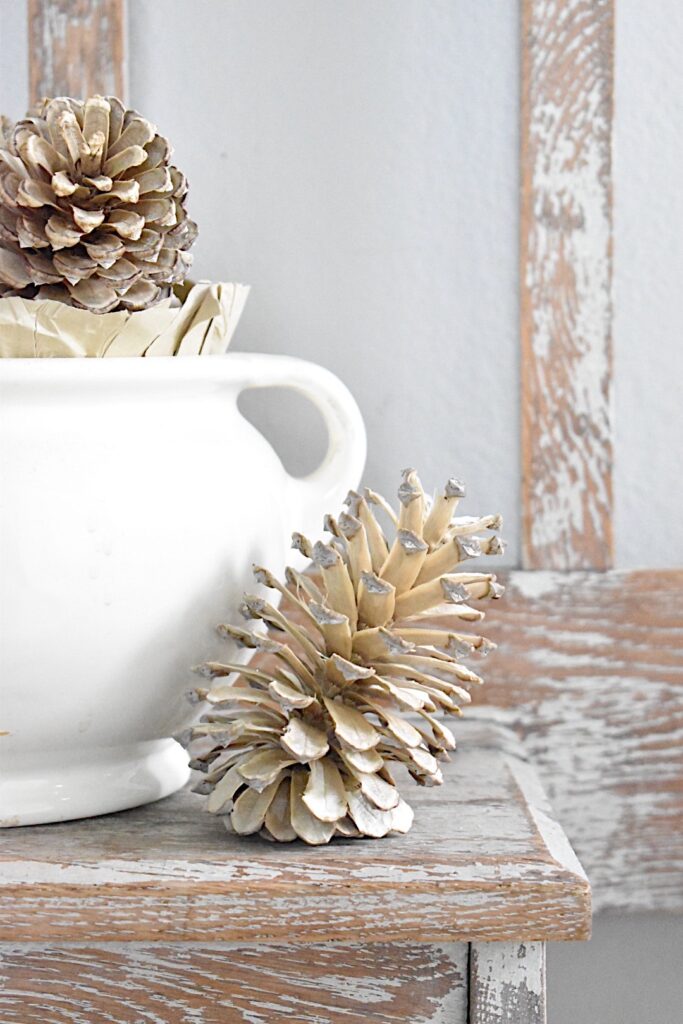 I also showed how to make a dried hydrangea wreath out of your hydrangea blooms that died on the vine.

Mine is made into a heart shape to use for Valentine's Day decor, but you could make a round wreath to use anytime of the year.
some exciting news!!!!
I'm so excited to tell you about a new link party that some blogger friends (Lynn from Living Large in a Small House; Cindy from Reinvented Delaware; Diane from South House Designs and Renae from Peacock Ridge Farm) and I will be starting on February 4th. It is called Fabulous Friday Link party.

If you are a blogger, you can join us each week and "link up" a blog post to share with others.

If you're not a blogger, it will be a great source of lots of inspiration all in one place.

Stay tuned for more info and reminders about this fun party!!
in other random news
That office clean up and organizing I had planned for last week, still hasn't happened!!

I have been so busy catching up on other things, that I still haven't gotten to it. I'm so anxious to tackle it, so I can reclaim the space and make it into an inviting but functional place to work.

Maybe next week, it will happen.

Somewhere under all of this mess, is this beautiful vintage turkish rug!
and some other amazing things I found…..
my friend Kari Anne at Thistlewood Farms also showed some ways to decorate with pinecones…

if you've ever considered growing a cutting flower garden, this post is for you…..
some great organizing tips for a small pantry….

this crockpot chicken enchilada soup looks so yummy….

and so does this crockpot taco soup….
and

and I'm loving these DIY English advertising pots….



I hope you found some inspiration at our Saturday Morning Gather today!

blessings and have a wonderful weekend,
shop this post