Saturday Morning Gather #50 – all things spring
gath•er: to come together or bring together into one group, collection or place
Good Morning, and Happy Saturday! I'm so happy you could join me for Saturday Morning Gather today!

This post may contain affiliate links, which means if you purchase something through one of my links, I will make a small commission at no additional cost to you. Thank you for supporting my blog! You can read my full disclosure here.
If you are new here, welcome.

Saturday Morning Gather is my weekly newsletter where I share what is going on at Vintage Home and also share inspiration and things I have found during the week that I think you might enjoy.

If you've been around a while, as always, I am so grateful to you! I truly appreciate you showing up and continuing to support my blog.

Gather round and grab your coffee or favorite morning drink of choice and let's take a look at what's been happening this week.

Can you believe the first day of spring is in 2 days???

I've been doing a little spring decorating inside my home and on my front porch and getting excited about working in the garden soon.

I might have even ordered a few spring fashion items!

So, read on and let's talk about all things spring. I can't wait to share what I found this week that inspires me.
on the blog….
On the blog this week I shared how to make a faux topiary that looks real.

It's super easy and inexpensive to make!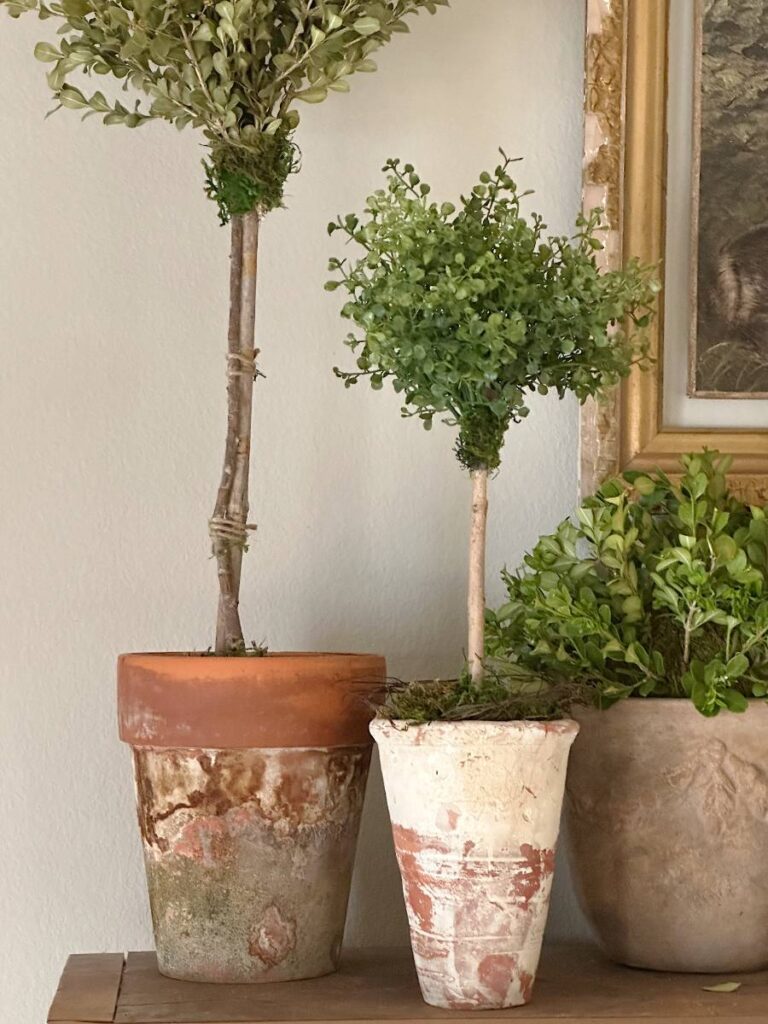 I also shared this delicious lemon curd recipe.

It is SO good and also makes a great gift.

I showed ways to use it, and ideas for giving as a gift.
in other random news…
One of my tablescapes, A Fall Garden Party, was a finalist in the Cottages and Bungalows tablescape contest!

I am so honored to be chosen along with so many talented people and so many beautiful tablescapes.

Even though my tablescape was not the winner of the contest, I am so grateful and honored to have been selected as a finalist.

Thank you so much to all of you that voted. I truly appreciate you!

My daughter and granddaughters were here for a visit this week.

While they were here, I discovered that my 3 year old granddaughter, Ivy, enjoys being in the garden, which makes this Mia's heart happy!

One afternoon she insisted we go to the garden, and said she was going to help us "scoop" the garden. That's what she called the garden spade.
After about 10 minutes of "scooping", she told us she needed something to sit on because "this is hard work".

After another 10 minutes, she yelled out "break time"!

This girl is smart, funny and keeps us on our toes.


We ended up spending lots of time in the garden, at her request, and it was a joy to experience it through her eyes.


She wore these glasses around for days, because "they make everything pink and beautiful". I would say that is the epitome of seeing the world through rose colored glasses.

I want to be like Ivy June when I grow up!
and some other amazing things I found….


this beautiful arbor flower arrangement….
this Panera style souffle looks amazing and I can't wait to try it….

an adorable centerpiece idea for your spring or Easter table…


a few spring favorite finds…..
just got these cute slingback pumps for spring….
and I love this satin blouse! Comes in 14 colors and less that $20!
I hope you found some inspiration at our Saturday Morning Gather today!

blessings and have a wonderful weekend,
And I would love for you to follow me on Pinterest and Instagram.