11 Ways To Decorate With Dried Hydrangeas For Fall
I'm so excited to finally be decorating for fall!! Using natural elements is my favorite fall decor, so I want to show you 11 ways to decorate with dried hydrangeas for fall.
I love foraging for natural elements to use in my home decor.
It's the easiest way and also an inexpensive way to create unique and beautiful fall decor.
For example, I created this "woodsy" tablescape last fall using lots of things I found in my yard and neighborhood.
This post contains affiliate links, which means if you purchase something, I will make a small commission at no additional cost to you. Thank you for supporting my blog. You can read my full disclosure here.
And these pinecones that I bleached. I use these in my fall and winter decor every year.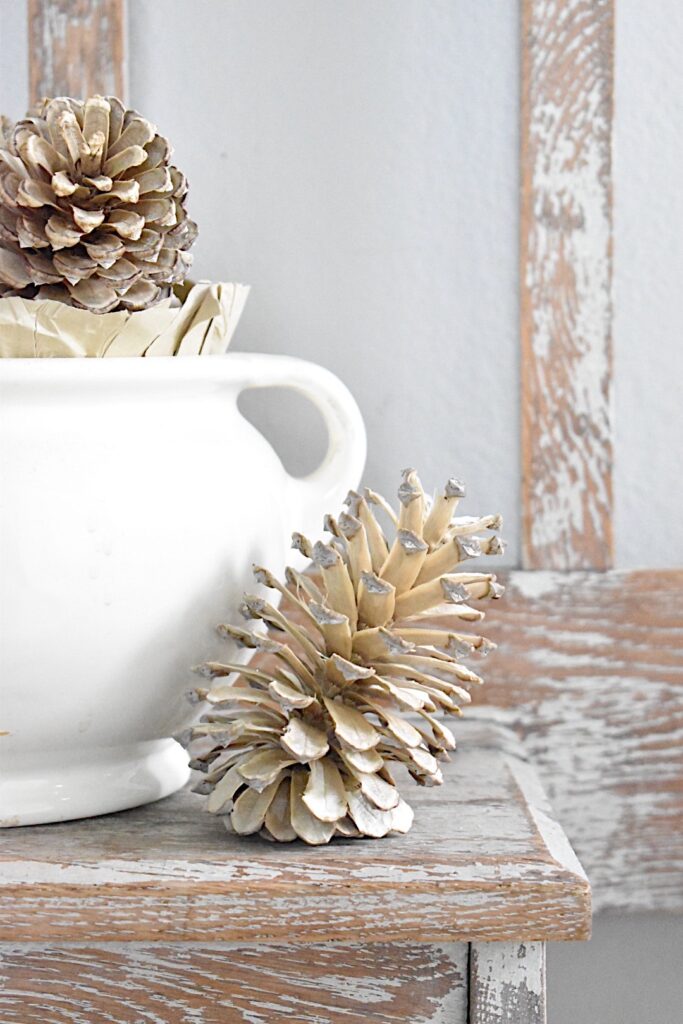 And you might like these huge leaves that I gathered and dried to use on this fall tablescape and also this Thanksgiving table. I dried them several years ago, and they still look great.
what can I do with dried hydrangeas
There are SO many uses for dried hydrangeas in your home decor.

I love to fill baskets with them. You can add a basket full of hydrangeas almost anywhere.

In a basket in a bookcase…
In a wall basket…
In a basket on top of a piece of furniture anywhere in your home. One of these is the top of the china cabinet in my breakfast area and the other is on top of the bookcases in my office.

And in a huge basket as a focal point in your home, like this one I use at my staircase landing.
My husband and I were on a vacation in North Carolina a few years ago. We went to a barn sale and they had a bundle of dried hydrangeas with stems about 4 feet long.


I got so excited about them, the only thing was we had to fly home and I knew there was no way I could get those on the plane.

Luckily, we were traveling with my brother in law and sister in law who had driven, and they offered to bring them home.

They landed in the basket on my staircase and have been there ever since.
other ways to use dried hydrangeas in your home
You can use hydrangeas in crafting like this sheet music paper flower I made or this Christmas tree.
You can tuck the flower head into a table centerpiece vignette.

They look great with white pumpkins, pine cones and my brass candle holders.

Hydrangeas come in various colors, but no matter the bloom color, they look beautiful with neutral decor or traditional fall colors and make great fall decorations
Or fill a planter….

Or, fill a bowl inside a china cabinet…
They also make a great addition to your fall front porch decor, like adding them to a dried arrangement for your front door.
how do you dry hydrangeas
There are so many different opinions about this.

I have trouble drying the traditional variety of hydrangeas, however, the limelight hydrangeas are much easier.

Cut them from the hydrangea bush when it begins to get a bit "papery" to the touch. Meaning, not as much fullness and moisture in the petals, you will have much better luck.

I cut the stems, and put the fresh blooms in an arrangement with about an inch of water. This is a great way to enjoy them while they are fresh for a while.

Then, they will begin to dry out as the water evaporates. Again, this method works really well with the limelight variety.

Another method is to cut the blooms (again when they are beginning to dry out on the vine) and hang them upside down until they completely dry out.
I like to harvest a lot of the blooms in late August because they are usually just about perfect for drying that time of the year.
how do you make a dried hydrangea wreath
A dried hydrangea wreath is fairly simple to make.

Cut enough hydrangea blooms to go completely around your wreath leaving a few inches of the stem.

Using a grapevine wreath form, just begin tucking the stems of the hydrangea into the wreath.

Move all the way around, tucking in one right beside the other, until you have covered your wreath form.

You can add a little hot glue, here and there, to secure if you want.
It's fun to use them to make a seasonal wreath like this heart shaped dried hydrangea wreath I made last year.
how do you arrange dried hydrangeas in a vase
This is one of my favorite ways to display my hydrangeas!
I have a beautiful brown transferware pitcher and it looks amazing filled with dried hydrangeas anytime of year.

Simply add enough dried hydrangeas to fill the vase/pitcher. Move them around until you get the fullness and shape you like.

It's really that simple.

I use this vase on top of my kitchen china hutch, on my entry table, my kitchen island, coffee table and sometimes on my dining room table.
I hope you enjoyed this blog post about 11 ways to decorate with dried hydrangeas for fall.
blessings,

If you would like to see more fall inspiration, here is a fall tour of my home….

If you enjoyed the post, be sure and Pin It to remember it….
And I would love for you to follow along on Instagram, Pinterest, and Facebook.