A Rustic Fall Table for a Chowder Dinner
It's tablescape day for my dinner club and we're hosting a Chowder Dinner Party. Since it's the fall season, I created a rustic fall table for a chowder dinner.
Hosting dinner parties and creating a beautiful dinner table with a unique touch has become one of my favorite things.

I love getting creative and thinking outside the box when I design a tablescape. So, let me share what I used to decorate for a chowder dinner party table.
If you are coming over from Stacy at Bricks N Blooms, wasn't her table decor and set up so cute and creative?
And if you missed my fall table from last year, you can see that here. I shared a unique fall table setting and incorporated fall flowers.
This post contains affiliate links, which means if you purchase something, I will make a small commission at no additional cost to you. Thank you for supporting my blog. You can read my full disclosure here.
Or you might like this Thanksgiving dinner table and these easy DIY placecards…
Rustic Fall Table Décor
For my chowder dinner party, I thought it would be perfect to create a casual setting on my rustic patio farm table instead of the dining room.
Using soup tureens down the center of the table, not only created my table centerpiece, but kept it relaxed and easy for self serve.
I started with a table runner of brown butcher paper.
I cut the paper the width I wanted, leaving about 3" of my dining table exposed on either side.
Next, using a large plate as a pattern, I drew a circle slightly larger than the base of the soup tureens I was using. I spaced them out evenly down the center of the table, drew my circle with a sharpie marker, and also wrote the name of each type of chowder I would be serving.
To keep my centerpiece simple, rustic and fall, I wove stands of grapevine down the center of the table and around the soup tureens.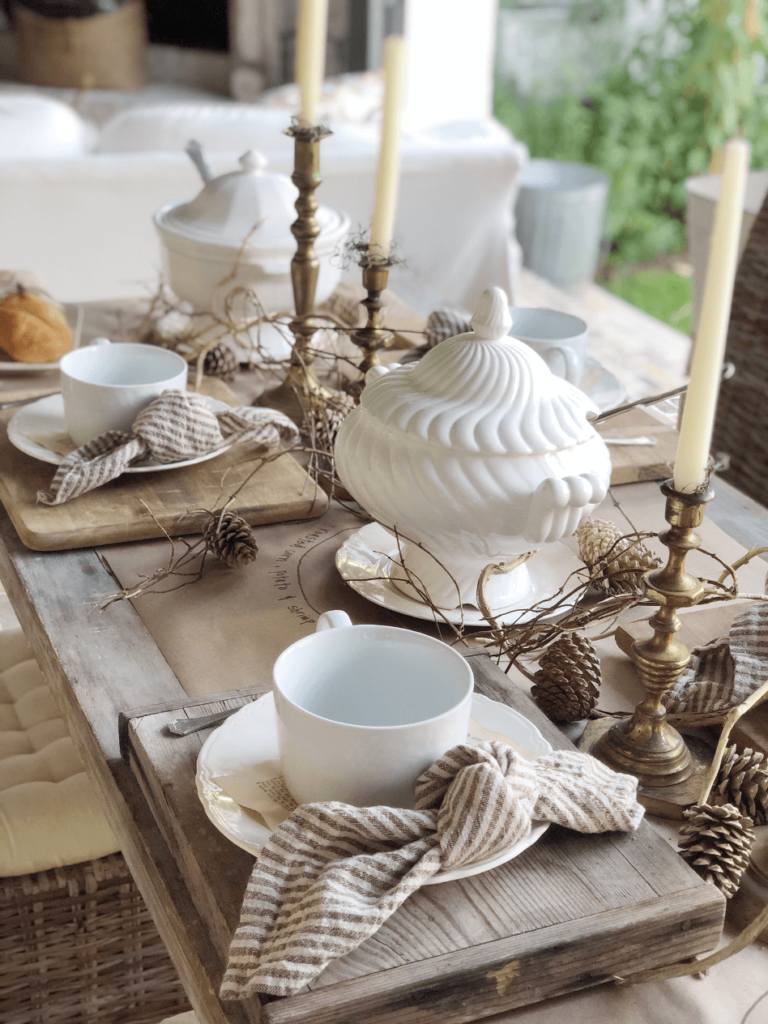 Then added a few bleached pinecones here and there to complete the look and a bit more rustic touch. If you need details about how to bleach pinecones, you can see that here.
Lastly, my brass vintage candle holders were place randomly down the center of the table between the tureens.
Candlelight is so important for a dinner party. It adds such a wonderful mood and atmosphere to your event. And its a great way to make your dinner guests feel welcome and special.
You could easily add a fall centerpiece or flower arrangement to the center if you wanted a more formal look.
Another option for a chowder party would be to have a buffet table of soups. Place your pots of soup or chowder, bread, toppings, and soup bowls/mugs down a long table or center island and make it completely self serve.
place setting for a rustic table for a chowder dinner
In keeping with my rustic theme, I wanted to incorporate wood chargers, and my collection of wooden cutting boards was perfect.
These were all found at a thrift store and collected over a bit of time.
This was the base of each place setting, then white dinner plates, layered with a soup mug. These soup bowls are my very favorite, and I used them often.
Casual brown and white striped napkins were tied in a knot and laid beside each plate on one side, and a spoon on the other.
I felt like the place settings were missing something, so I added a page from a vintage book underneath the bowl. And, a small pinecone inside of each bowl. Of course, these will be removed for using the bowls, but it sure did add a finishing touch.
White pumpkins or mini pumpkins would also work and could be cute party favors for your guests.
Of course, you need crusty bread for a hearty soup, so a loaf was wrapped in brown parchment paper, and placed on a tray at either end of the table.
I hope you enjoyed seeing how I created a rustic fall table for a chowder dinner, and find some inspiration and decor ideas here.
A chowder or soup party would be such a fun idea for family dinners, fall dinners or a get together with friends.

blessings,
Next up, to show her beautiful table, is Renae from Peacock Ridge Farm. She did such a great job on her coastal style tablescape for our Chowder Dinner Party.

Renae is our guest host this month, and we are so happy to have her joining us.
Be sure and click on the link at the bottom of each photo to see so much tablescape inspiration.
Don't forget to check back on Saturday when we share the menu for this fun event. I am sharing the best roasted corn and shrimp slow cooker chowder that is a perfect fall recipe and comfort food. We have so many variations of chowder recipes, so you don't want to miss it!
And I would love for you to follow along on Instagram, Pinterest, and Facebook.
If you enjoyed this post, be sure and Pin It to remember it…..
shop the post