Christmas in July Home Tour
I am so excited to be joining some friends for a Christmas in July home tour. We are sharing photos of past years Christmas decor and inspiration in our homes. I hope you will follow along as I take you through a 'Christmas in July" home tour of my farmhouse.
If you are joining from Life at Bella Terra, welcome! I'm so glad you are here!
I can't wait for you to see all of the amazing inspiration from some very talented ladies!
farmhouse 434
This is the front of our farmhouse. Although I don't typically use any color inside my home for holiday decorating, I add a little to my front porch. Fresh greens in the urns on either side of my front door, a vintage sleigh and red Christmas pillows on the chairs is just enough.
kitchen tree
A couple of years ago, I decided to add a Christmas tree in my kitchen. I collect Mackenzie Childs Courtly Check serving pieces and I found a wide ribbon that was black/white check with a red border and that was my inspiration for the tree.
The packages around the tree were wrapped in black/white check paper or brown bags with red and white patterned tissue. The tree decorations were red vintage Christmas balls, black and white number tags, black and white striped balls, and a collection of vintage mini kitchen utensils. I recently picked up a few more mini utensils at a barn sale and can't wait to add them to my tree this year.

For the topper, I tied together some wooden spoons and a wooden rolling pin. I finished it off with a large bow made from my inspiration ribbon.
I filled my hunter rain boots with fresh greens and sat them beside the tree. It added something fun and a bit out of the ordinary. Have you ever used boots for decor??
My kitchen hutch houses some of my Mackenzie Childs collection and also my Emma Bridgewater Black Toast dishes. I added a few pops of red with some santas and red and white dishes.

I have a large collection of cream color Christmas trees, so I put the largest trees on top of my kitchen hutch. And I use a garland of cotton to finish it off.
I collected santas for many years, but most of them have been boxed in the attic since I stopped using color in my holiday decor a good many years ago. I only use a few of the ones most special to me every year, like this one that my mom made from a gourd.
living room tree
My main Christmas tree is inside my entryway right below the stairs. It sits between the dining area and living room. This is a vintage tree that I bought several years ago at a thrift store. The tree is only about 5 feet tall, so I use a planter box made from old chippy wood to raise it up higher.
When it's not Christmas time, the planter stands on my front porch with my bay tree in it.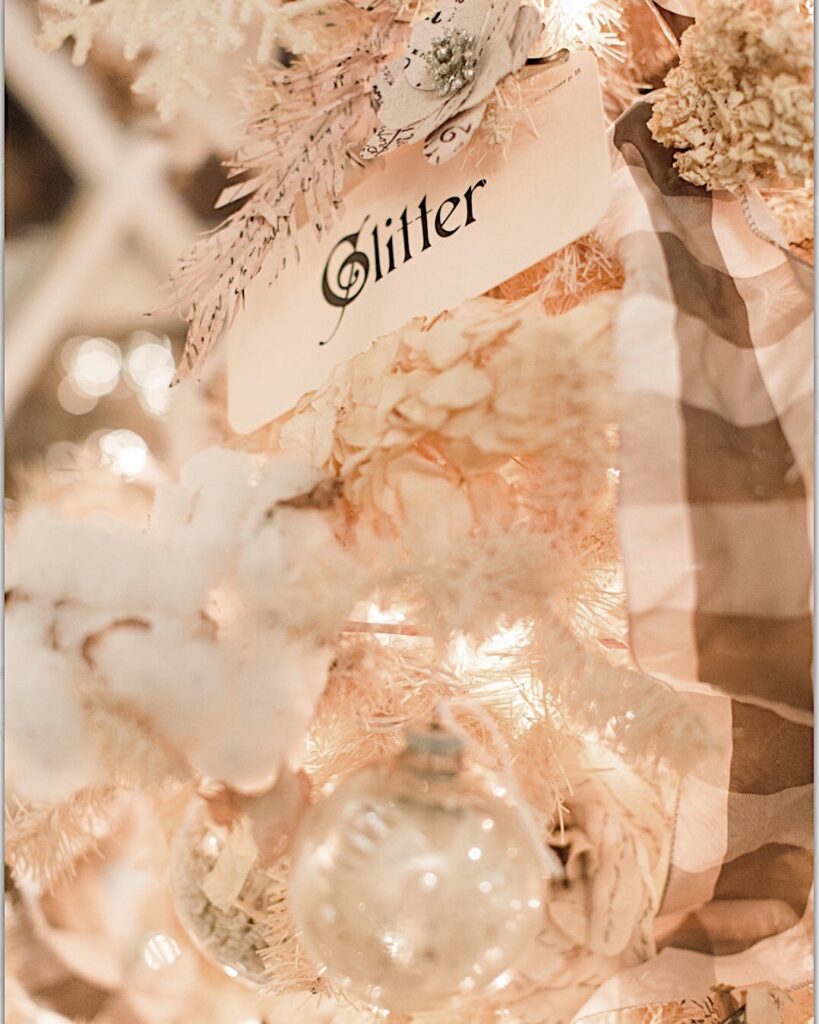 I use a taupe/white check wide silk ribbon and a book page garland woven through the tree. The topper is made of stalks of tallow berries and stems of real cotton.
A menagerie of ornaments make up the tree. Dried hydrangeas, flash cards, vintage medicine bottles, and broken shards of antiqued mirror wrapped with wire, just to name a few. I add to it every year with unusual things that I find along the way. I don't want it to be matchy or predictable, so I don't have more than 4 or 5 of any one ornament.
A white santa from my collection stands among vintage Christmas balls and battery operated string lights in a small greenhouse on my dining table.
entryway
I keep the entry table decor fairly simple with just a few pieces of white pine sprigs and neutral pinecones. The flower basket has sprigs from another vintage Christmas tree and I always have a candle here to welcome guests when they enter my home.

The large vintage mirror was a flea market find and is one of my favorite pieces.
guest bedroom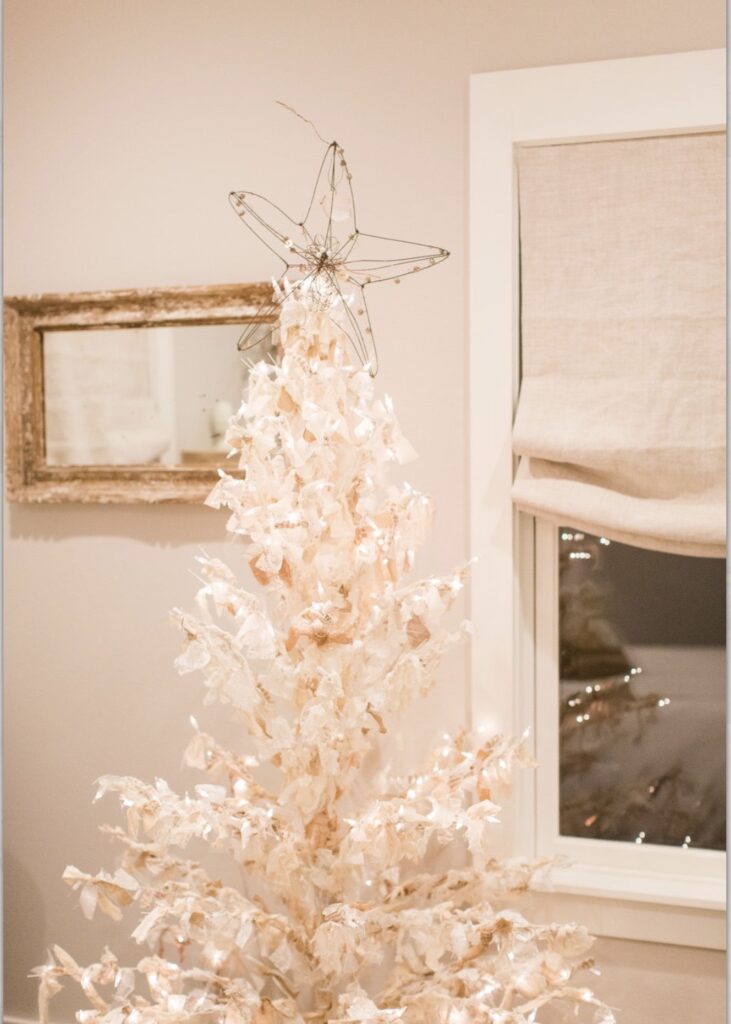 The final tree is in my guest room. This is a rag tree that I made years ago from a lawn ornament tree I found at Big Lots. The tree has a metal center pole with "branches" of wire that are wrapped with tiny white lights. I tore about a bazillion strips of different neutral fabrics and laces and tied them one by one until the tree was entirely covered. It is very simple, but beautiful and requires no ornaments.
For the tree skirt, I use a needlepoint rug that is typically on the floor at the foot of the bed.
living room
The carriage house doors that divide our living room from the kitchen are one of my favorite things in my home. We bought these doors at Round Top Antiques festival when we were building the farmhouse. Each door is 10 feet tall and 6 feet wide and they came from a carriage house in Iowa. I hang wreaths made of fresh greens on them every year.
I hope you've enjoyed my "Christmas in July" home tour!! Be sure and take a look at the other amazing homes.

Next up on the tour is Midwest Life & Style!! Jen's home is beautiful and full of inspiration, so you don't want to miss it. Be sure and use the links to see all of these other talented ladies homes.
Click on the highlighted links below to follow along on the tour.
Stacy Ling – Bricks N Blooms –/– Chloe – Celebrate & Decorate –/– Anne & Ann Marie – Simply 2 Moms –/– Cindy – County Road 407 –/– Jenn – Down Shiloh Road –/– Kelly – The Tattered Pew –/– Rachel – The Ponds Farmhouse –/– Mary – Life At Bella Terra –/– Michele – Vintage Home Designs –/– Jen – MIdwest Life & Style –/– Kim – Shiplap & Shells –/– Kristen – White Arrows Home –/– Andrea – Design Morsels –/– Chas – Chas Crazy Creations
blessings,
michele
If you enjoyed this post, be sure and Pin It to remember it….
I love hearing from you so if you have questions or comments, please leave a comment at the bottom of the post. And be sure and subscribe so you don't miss a thing!

Also, you can find me on Instagram, Facebook and Pinterest.
shop the post