DIY Painted Bunny Tutorial
I purchased this adorable bunny last year, but didn't like it's dark color, so I pulled out some paints I had on hand and gave it a makeover. Take a look at how I did it with this DIY painted bunny tutorial.
This is the way the bunny looked when I purchased it. I found it at my local Tuesday Morning store. It is made of a resin type material.
I painted a coat of soft linen color paint from Jeanne d'arc Living paints. It is basically a chalk type paint and dries very quickly. I didn't completely cover the entire surface. It won't matter that I missed areas, because I am going to be adding other layers of paint.
This is how it looked after it dried.
1st coat process
This video shows the first coat process.
Next, I painted a coat of soft grey paint with Jeanne d'arc Living paints. Again, I didn't cover every spot with the paint.

Also, I prefer a french style painting look, so for this layer, and layers to follow, I put the paint on fairly thick.
If there are cracks and crevices and any detail on a piece, I "puddle" the paint in those areas and apply it very thick so it will crack somewhat when it dries. I sometimes encourage the cracking by drying it quickly with a hairdryer.
You can see how thick the paint is in this picture.
second coat process
This video shows the second coat process.
I added a final layer of paint in antique cream in the Jeanne d'arc Living paint. I covered most of the bunny, but again, wasn't real particular about coverage.
final coat of paint process
This video explains the final coat of paint process.
To finish the bunny, I distressed it a little by sanding in places. I added a layer of clear wax then light brown wax. I added the brown wax before the clear wax dried. By applying a thin coat of clear wax first, it keeps the brown wax from going on too dark.

I was easily able to wipe some of the brown wax back off to achieve the color I was going for.
distressing and waxing process
This video will explain the waxing process.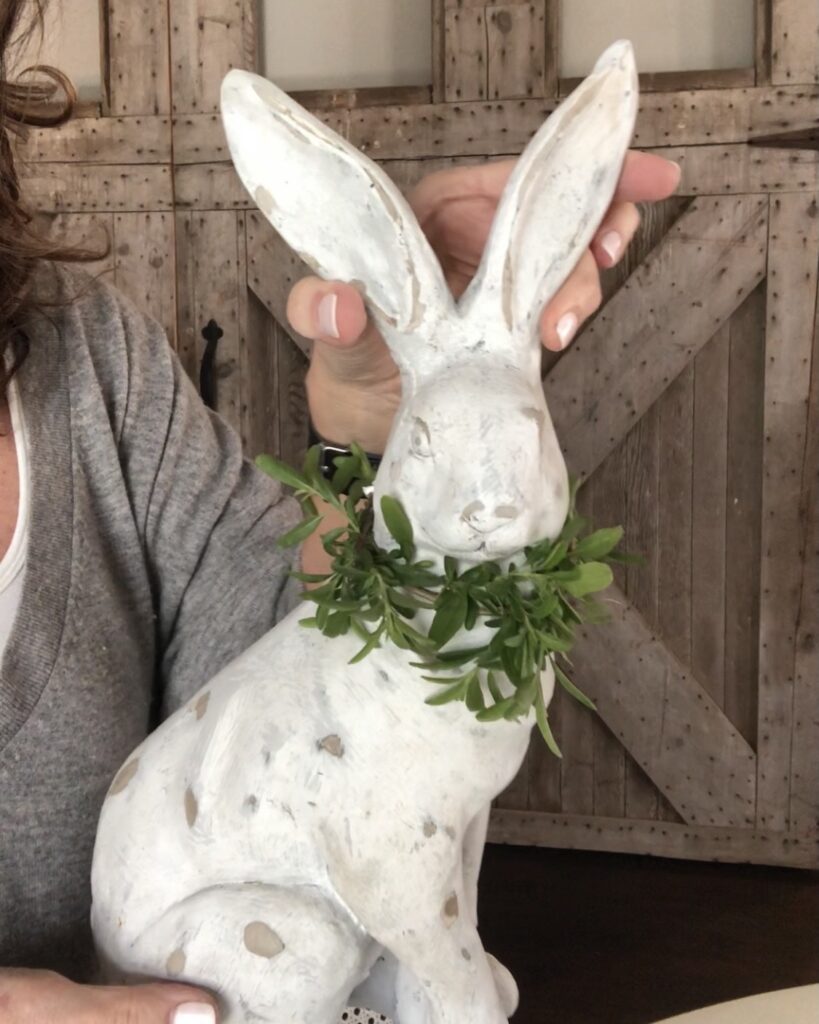 I added a wreath of fresh greenery around the neck of my bunny. It will dry in a few days, and I will need to replace it, but since I have lots of fresh rosemary and lavender growing, I can replace it occasionally.

You could easily purchase some faux greenery and have the same look. That way, you wouldn't need to replace it.
I hope you enjoyed this DIY painted bunny tutorial, and found some inspiration.

It's really fun to makeover thrifted pieces. When you're out thrifting or garage sale shopping, keep in mind that you can give something a completely new look, with just a little paint and distressing.

You can see more of my tips about thrifting in my post about Estate Sale Shopping 101.

Also, see how I incorporate thrifted items in my home by coming along on this home tour or watch the video below for a tour of my favorite architectural, thrifted and vintage finds.

I would love for you to follow me on Instagram, Facebook and Pinterest. And be sure and subscribe to the blog, so you don't miss a thing!
blessings,
michele
Pin it to remember it…..