Easy Ideas for Creating a Simple Fall Tablescape
Setting a beautiful table for fall gatherings, Thanksgiving and just for everyday, is something I truly enjoy.  Let me show you some easy ideas for creating a fall tablescape for the upcoming holiday season.
First of all, you don't have to spend a lot of money to create a beautiful tablescape.

Here are a few of my past fall tablescapes that I created using a lot of things I already had or things from nature.
Easy Fall Table Decor Ideas


Thanksgiving Tablescape Last Year…
This post contains affiliate links, which means if you purchase something, I will make a small commission at no additional cost to you. Thank you for supporting my blog. You can read my full disclosure here.


Fall Tablescape with jewel tones…..
My Latest Simple Fall Tablescape
This neutral fall table was put together on my patio dining table.

As the weather begins to cool off, it's the perfect time for hosting dinner parties outdoors.

The first step was a table runner. I used a piece of gauzy cheesecloth.


It was placed very casually in the center of the table and an old carpenter's box I have was my centerpiece focal point.

Then, I started adding dried stems, leaves, corn husks, bleached pinecones and gourds that I already had. Some of the dried stems were part of an old floral arrangement.

I just took it apart, which was a nice way to repurpose and create a new look.


I moved the stems around and arranged until I was happy with the look, then filled in with the gourds and pinecones and a few pieces of grapevine.

You could easily recreate this DIY fall centerpiece using a basket if you don't have a large box.

Easy Fall Place Settings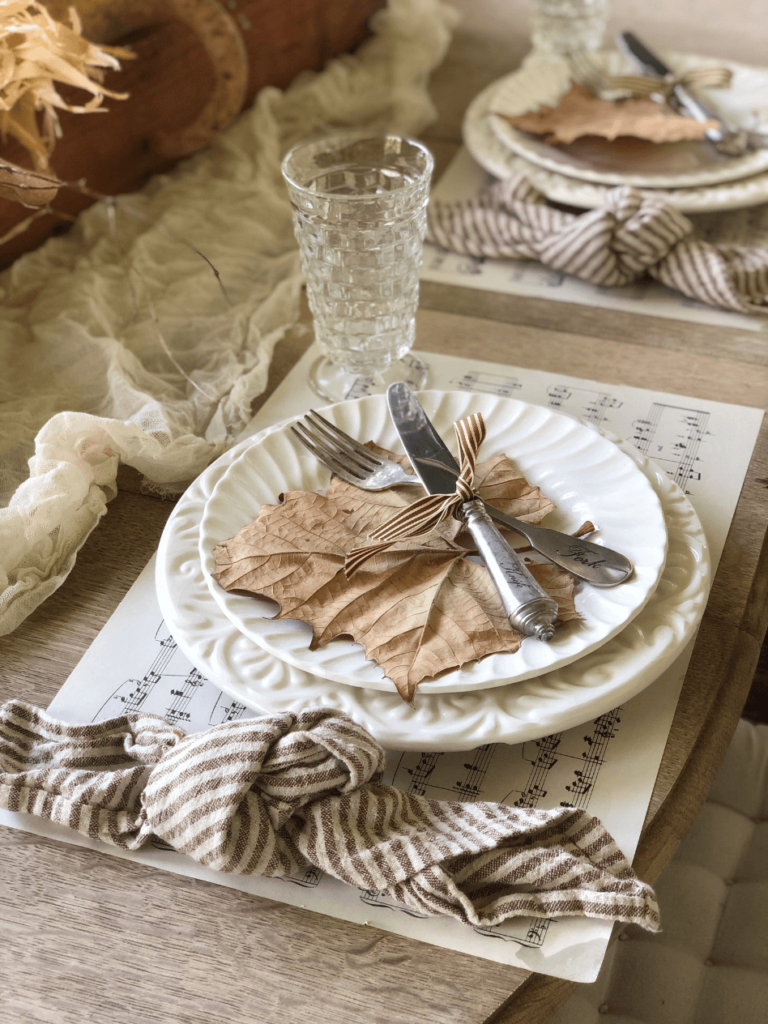 Sheet music pages made a great addition as a placemat for my neutral table setting. You can sometimes find books of sheet music at thrift stores, garage sales and antique stores.

Next, I layered thrifted dinner plates with smaller salad plates.

I've mentioned before that starting to collect dinner plates from thrift stores is a great idea. Buying them second hand is an easy way to save money and you'll be so glad to have them on hand when you're ready to host a party for a large group.

To keep my table scape very casual, I tied brown/white striped napkins in a knot and placed beside each place setting.


My favorite addition to this particular table is the large leaves I used on top of each plate.

I saw these huge leaves in a parking lot several years ago. I brought them home, and pressed them, and they still look great.

They are used often in my decor and table centerpieces during the fall season.
In fact, the next time I see leaves this large, I will definitely be grabbing more of them.

I tied the silverware with a narrow striped ribbon and laid it on top of the leaf.

If you don't have access to any large leaves, you could always use faux leaves, small white pumpkins, or even realistic looking faux pumpkins on top of each plate.

I think it's so much fun to get creative and think of different things to use for a unique seasonal centerpiece.


How Can I Decorate for Fall with No Money
There are so many ways to decorate for fall without spending a lot of money.

One of the easiest ways is forage your yard, and neighborhood for natural elements to use for fall decor.

You can create a beautiful fall tablescape using pine cones, fall leaves, acorns, horse apples, branches, pampas grass and the list goes on and on.

There are so many things in nature available for no extra cost at all.

Reusing some of your favorite things you already have in your home is a great way to save money. Then incorporate some of these natural things.

For example, you might have a large wooden bowl you can add some pine cones to or mason jars you could put branches and a stem of fall or faux leaves or pampas grass in to create a simple fall centerpiece.
How Can I Decorate My Table Cheaply
A great time to look for inexpensive table decor is to collect it during an off time of year at thrift stores, and garage sales.

Looking for fall decorations during the spring may result in more to choose from, because a lot of people may not be searching for that at that time of year.

Faux pumpkins, a fall pillar candle, candle holders, fabric napkins and napkin ring are things that you might easily find.

I also collect vintage plates, wine glasses and goblets in neutral colors to keep on hand for any season.

Then, you can easily mix them with any color scheme you want.
How Do You Make an Autumn Centerpiece
If you incorporate some of the ideas I've shared above, it's easy to create an autumn centerpiece.

Let's revisit some of those centerpiece ideas….

1. Use a large basket, box or bowl that you already have as the base of your centerpiece.

2. Gather things from nature like leaves, pinecones, acorns, and cornhusks to incorporate in your centerpiece.

3. Other options to use are fall flowers, simple pumpkins, or even the beautiful blue pumpkins that are the heirloom variety if you don't mind spending a little money for your centerpiece.

4. Use inexpensive fabric for a table runner, like the cheesecloth I used on this table.

5. Use sheet music or decorative paper for a unique and inexpensive placemat.


I hope you enjoyed this blog post for easy ideas for creating a simple fall tablescape.

I would love for you to follow along on Pinterest, Instagram and the blog, so you don't miss a thing.

For more fall inspiration, take a look at my recent fall home tour with Farmhouse Living


blessings,
If you enjoyed the post be sure and Pin It to remember it….
shop the post…