An Easy Way to Bleach Pinecones
I love using different textures and natural elements in my home decor, and several years ago I had this idea to try bleaching pinecones. Even though they are neutral already, I thought it would be fun to experiment and see if I could get them a lighter color, so I wanted to share an easy way to bleach pinecones.

These are beautiful in you fall decor, but also a perfect way to bring some texture to you winter decor!
supplies for bleaching pinecones
To bleach pinecones, you will need to gather your pinecones. You will also need a gallon of bleach and a large plastic container.
How to bleach the pinecones – step one
You will mix 3 parts bleach to 1 part water in your container. You need enough of the liquid mixture to cover your pinecones.
step two
To make sure the pinecones stay submerged, you will need to weigh them down. I just filled my empty bleach container with water and laid it on top of the pinecones.
step three
I left my pinecones submerged for a couple of days, then drained the bleach water off. You may not have to leave them this long, but I wanted to make sure they had soaked in the bleach really well.

Sitting the container in the sun, helps too.
step four
After I drained them, I laid them out in the sun until they were completely dry (forgot to get a pic of that step).

Don't be fooled by the color when you drain the bleach/water mixture off. Because they are still wet, they will still look like their original color. The color will fade as they dry out.

There have been a couple of times they didn't bleach out as much as I liked, so I repeated the process.
finished bleach pinecones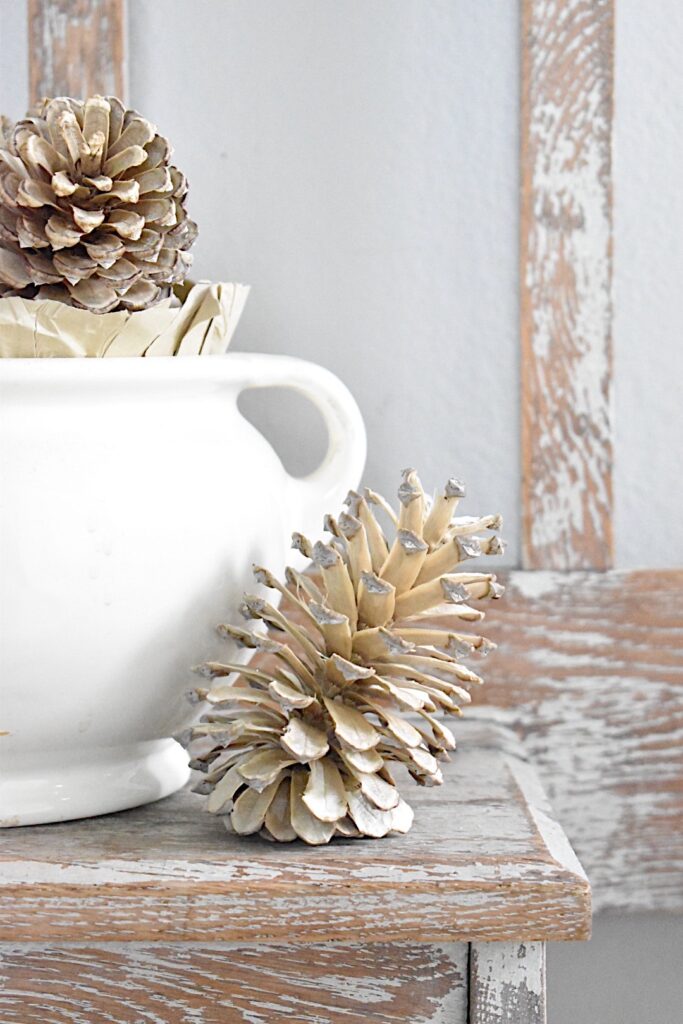 When your pinecones are fully bleached, this is what they will look like.
Beautiful natural elements to add to your fall, holiday and winter decor!
ways to decorate with bleached pinecones


They look amazing just stacked in a bowl or container, or ….
use them on a place setting for a beautiful fall table!!
They would be beautiful for any fall or Christmas decor.

I can see them piled into a dough bowl for an amazing centerpiece or even wired into a wreath or garland and draped over a fireplace mantel or front door.

I hope you have enjoyed seeing "an easy way to bleach pinecones" tutorial. Please share if you try this. I love hearing from you!

blessings and happy decorating,
michele
If you like the reclaimed candleholder featured in this post, you can find the the tutorial on how to make it by clicking the link below.
https://www.vintagehomedesigns.com/reclaimed-wood-candleholder/

You might also enjoy this beautiful fall tablescape idea where I incorporated bleached pinecones in the tablescape centerpiece.
If you liked this post, be sure and Pin this image to save for later.
shop this post