How to Create a Fall Tablescape
I recently hosted a retirement party for a close friend. Since we have been having beautiful fall weather here, I thought it would be perfect to dine outside. I went with a fall theme and used lots of things I had on hand and want to share with you how to create a fall tablescape that is easy yet beautiful.
A neighbor let me borrow a 6 foot folding table, and I covered it with an off white tablecloth. I used wooden leaf chargers that I recently got from PNW Farmhouse Designs.
My collection of mix and match white plates, that I have been gathering for years, worked out perfectly for this. I set each place with a white dinner plate and layered with a brown transferware salad plate from my collection.

As I have mentioned before, all of my white dinner and salad plates are mix and match and have been picked up here and there at thrift stores. I never pay more than a couple of dollars for them.

It's great to have a supply on hand, because you can pair them with any other dishes for any season or event.
I used plaid napkins, tied them in a knot and placed beside each plate.

Since I had begun collecting amber glasses at thrift stores recently, I had just enough to use for drinking glasses. They are mix and match and I pick them up here and there usually for a dollar or two.

Last year while on a visit to my daughter, in Houston, I saw some huge leaves in a parking lot and I picked up about 8 of them and took them home to dry. I was surprised how beautifully they dried.

I laid one of the leaves on each plate and topped with a place card that I made.
Since my friend was retiring from teaching, I found quotes about teachers, typed them up on my computer and printed them on white card stock. I hot glued a piece of wheat across the top of each card. I had a bundle of wheat from old fall decor, so I just borrowed a few pieces for my cards.

These place cards are great for any event or occasion. You can use them as actual name cards at each place setting, or use quotes or scriptures.

The quote cards make great table conversation!
The centerpiece of the table consisted of different brown bottles I have been accumulating.

I cut flowers and greenery from my yard and also added a $5 bundle of flowers from the grocery store. Three of the larger brown vases held the flowers and the smaller brown bottles held a taper candle.

I used 3 brass candlesticks, also thrifted, to add just a bit more character and candlelight. I finished the look off with a few of my bleached pinecones.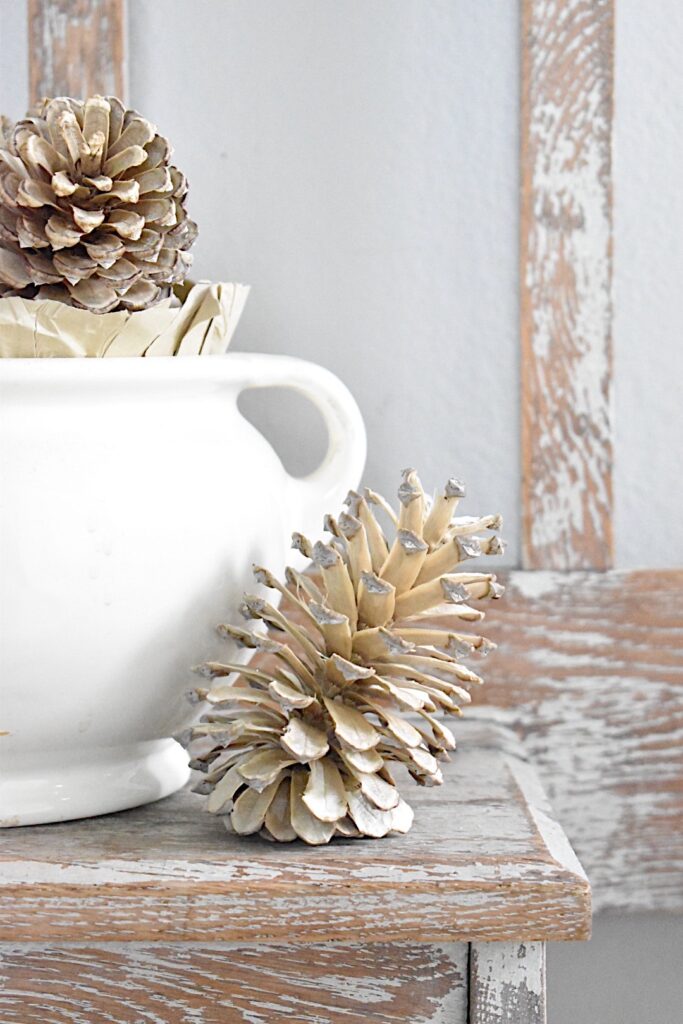 Since I thrift often and have collected many of these pieces, it didn't end up costing me anything, other than the grocery store flowers and a few tapers, to create this tablescape. Also, it didn't take much time to put together, so I was able to focus on food and not stress about my table.

Another thing that made this dinner very fun and memorable was that when we were seated for dinner, we did a toast to the guest of honor and then went around the table and read our teacher quote.

This tablescape would be great for a Thanksgiving table and you could make place cards say "I am thankful for…." and let your guest fill in the blank, then read them before your dinner.

I hope you have enjoyed this "how to create a fall tablescape" inspiration!

blessings and happy fall,

If you enjoyed this post, be sure and Pin It to rememer it….
You might also like this woodsy tablescape for fall….
or these Thanksgiving tablescapes…
Click the link on the photo to see the post.