How To Create A Garden Inspired Tablescape
I recently hosted a birthday brunch for a very dear friend and wanted to create something special for her party. I work much better when I go with a theme, so I decided on a garden theme and I can't wait to show you how to create a garden inspired tablescape.
This particular friend and I met, along with 2 others, years ago when our daughters were in high school drill team together. After countless Friday night football games and a gazillion dance competitions, we became very close friends. We started celebrating each others birthdays, and 16 years later, we still get together and celebrate. Fortunately, our birthdays are spread apart, so we get together about every 3 months.
When I plan an event or party, and even when I decorate a space, I like to start with an inspiration piece. This gives me direction and a starting point. The ideas quickly build from this inspiration or focal point piece.

For this garden inspired party, my inspiration piece was a terra cotta plant saucer. I saw a few in my garage several months ago, and immediately thought they would make really cute plate chargers. And from there, the ideas just began to flow.
this post may contain affiliate links. click here for full disclosure
centerpiece
I have a moss table runner that I used down the center of my table, placed on an angle. Next, I randomly layered collard green leaves around the table. I bought a bundle of them at the grocery store for $1.29.

The centerpiece was an old metal watering can, and I cut flowers from my garden to fill it. I also tucked in a couple of carrots with the green leafy tops sticking out.

I purchased 2 white flowering plants from the nursery and potted in two aged terra cotta pots and placed one on either side of the watering can.

Smaller terra cotta pots, seed packets, a couple of old gardening spades and some carrot bundles randomly placed along the moss runner finished off my centerpiece.

I saw some huge white carrots at the grocery store that were so neat. Have you ever seen such huge carrots???
I've never seen anything like them before and I thought they would be a fun addition to my table, so I grabbed a couple of them. I researched and found out they are called Daikon and sometimes referred to as oriental winter radish. They are similar in shape to a carrot with a flavor similar to a mild radish.

I plopped those little pretties at one end of my centerpiece to add a bit of drama.
place settings
Since I had the moss runner and the collard greens scattered along the table, I didn't use place mats. My outdoor table is narrow, so placemats would have been a bit too much.

Instead, I used the large terra cotta plant saucers as a plate charger. The next layer was a white dinner plate topped off with a salad plate with an ivy border. I found a set of 11 ivy salad plates at a thrift store recently for $4.94. I'm pretty sure I have squealed out loud when I saw them! I had been wondering what plates to use for my garden inspired tablescape, and I found these at the perfect time.

I've mentioned before how important it is to have a set of white plates if you do a lot of tablescapes or entertaining. They make a great layer for any theme or color scheme. My white plates have been thrifted over time, and I never spend more than a couple of dollars for each plate. I highly recommend starting a collection of them to have on hand, and if you don't want to thrift them, you might like these Crate and Barrel plates. I use these fairly often, as well.

Garden gloves I found at the dollar store for $1.00 a pair, made the perfect silverware holder. Since I was only setting a table for for, I only had to buy 2 pairs of gloves. I would say that's a pretty inexpensive investment for a fun and unusual addition to a tablescape.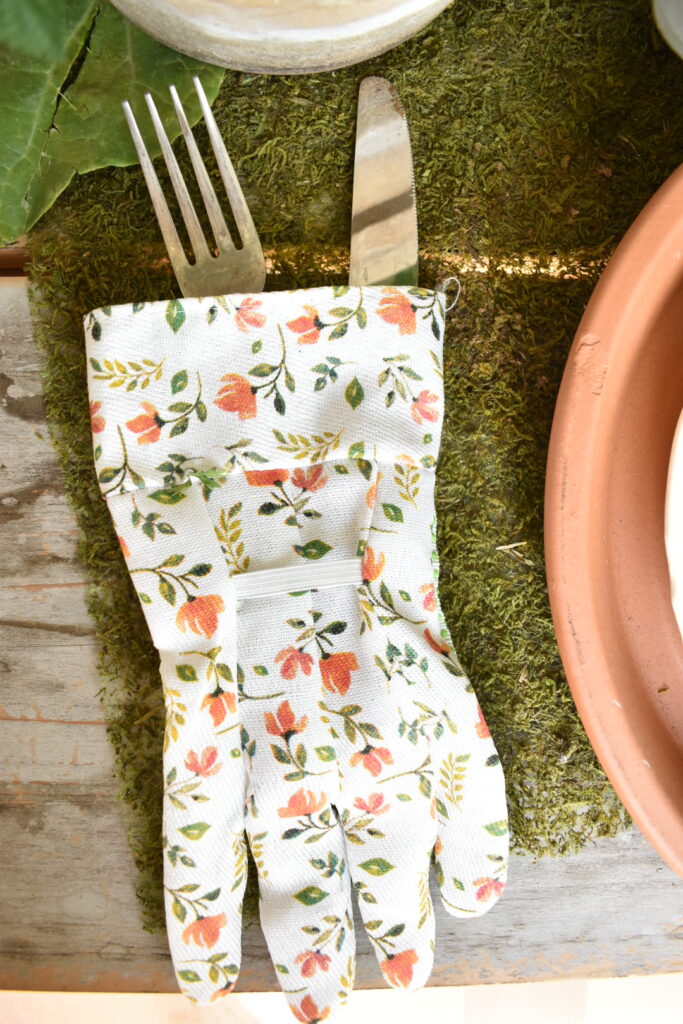 The napkins are linen and I've had them for years. They are great with any tablesetting. For this tablescape, I tied them with a piece of jute, tucked in a piece of rosemary from my garden and placed them on the center of each plate. A garden marker with each guests name on it was tucked into the napkin, as well. I purchased a package of these a long time ago at the dollar store, and just used a sharpie marker to write each name.
finishing touches
I remembered the waist aprons I used on the back my chairs last fall, and thought they would be really cute with some seed packets, gloves and garden tools. Most of these things, I had on hand and purchased the rest at the dollar store. I spent very little money and can use all of these things again.
I think the aprons tied on the chair backs was the perfect finishing touch to my garden inspired tablescape!
menu
For the menu, I served tomato soup with homemade croutons and basil pesto drizzle, a yummy quiche, mixed greens salad with apples, dried cranberries and goat cheese, and carrot muffins.

I will be sharing the recipes soon, because they are all some of my favorites and super easy to make.
Here is a sneak peak of how I decorated and served the carrot muffins.

I hope you got some inspiration for how to create a garden inspired tablescape. I appreciate you being here and following along, and would love to hear if you plan your own garden party!

blessings,
If you enjoy tablescape inspiration, you might like my "Peachy Summer Tablescape", or my Fiesta themed party. This Spring inspired table was really fun too!
Shop This Post



If you liked this post, be sure and pin the image below to remember it. Don't forget to subscribe to the blog, so you don't miss a thing!
I would love for you to follow me on social media. You can find me on Instagram, Facebook, Liketoknow.it, You Tube and Pinterest.