How To Create a Golf Theme Table for Father's Day
Father's Day is right around the corner. I have golfers in my family so I thought that would be a fun theme for a tablescape. Let's get started and talk about how to create a golf theme table for Father's Day.

It's tablescape day for my monthly dinner club group and we're hosting a Father's Day barbeque. I decided to go with a golf theme and can't wait for you to see all of the ideas this talented group has for you.
If you have a golf- loving dad in the family, chances are, you have access to most of the things I used for this table.

The nice thing is, I was able to raid my husbands golf bag to get most of the things I used, and also his office which has some memorabilia golf items.

I didn't purchase anything except a basket to hold balls for the centerpiece. This is like the baskets used at the driving range to hold the balls.


I considered going to our local golf course and asking to borrow one, but I found one very inexpensive online and thought it would make a great addition to my golf theme table.

Since this golf theme would also be fun for a birthday party for a golfer, I'm sure I will use the golf basket again, so it was worth the few dollars I paid for it.

After I bought the basket online, I actually saw one at a thrift store, so if you want to try this theme, you could possibly thrift one or find one at a yard sale.

how to create a golf theme
Father's Day table
golf theme place settings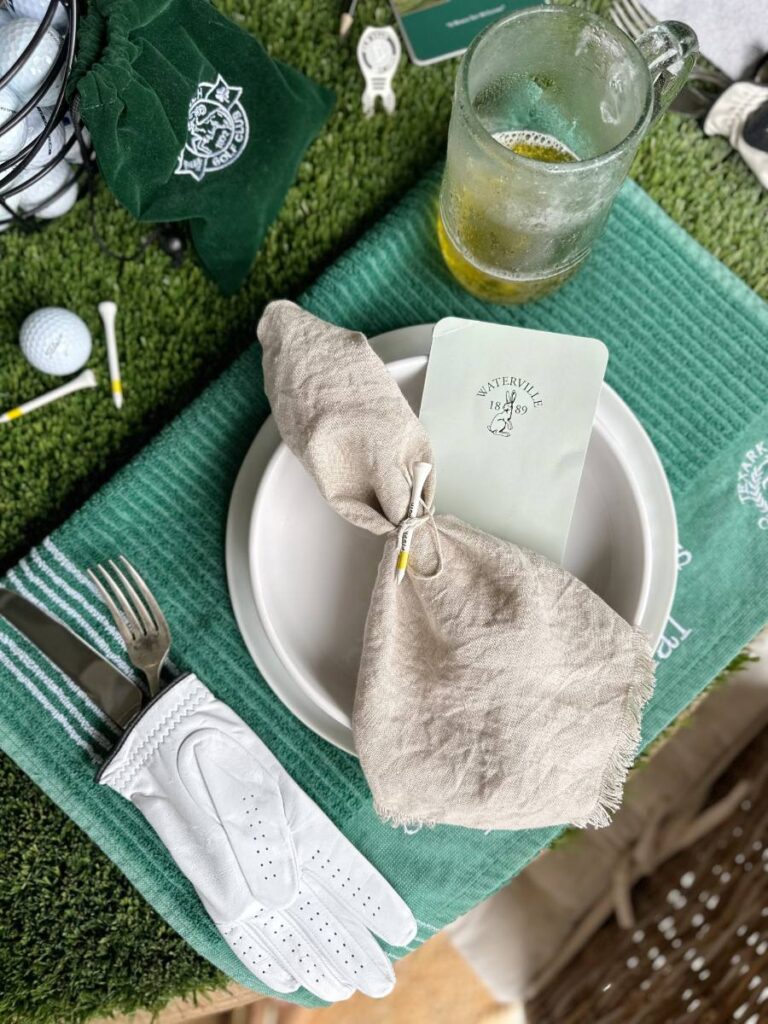 I borrowed some of my husbands golf towels to use for placemats.

Next, I used white dinner plates and layered with a white shallow bowl.

I recently bought these bowls and I'm loving them! They are so great for soups, salads, pastas, etc.

A gauze napkin, tied with cotton twine was perfect for this casual table, and to go along with the golf theme, I tucked in a golf tee.

Golf gloves made a super cute silverware holder and the finishing touch to my place settings were golf score cards on top of each plate.


My husband has lots of souvenir score cards from places he has traveled and played, so I thought these would be a great idea and make great conversation.

You could probably stop by any golf course and ask for a few scorecards. And you might even call some that aren't local and ask if they would mail some to you.

We took a trip to Ireland last summer for his birthday and he was able to play 8 different course while we were there. This golf trip with 7 other couples was the perfect gift for his 60th birthday.

Father's Day decorations for a golf centerpiece
Luckily, I have a friend that just had turf put down in her yard and she had a huge piece left over she let me have.

I cut the turf the shape of my dining table and used this in place of a tablecloth.

It made the perfect table cover and a great way to set the tone for my golf theme table.

My friend also had a few vintage golf clubs I borrowed for the focal point of my centerpiece and placed those in the middle of the table.


I filled the golf basket with golf balls and propped the clubs on it.

Golf balls, golf tees, score cards and ball markers scattered around the table finished of my golf theme centerpiece.

Lastly, I placed a miniature golf cart that my husband had, in the center of the table.

other ideas for a golf-themed party
If you don't have access to a large amount of turf for a table cover, you could purchase just a small amount and use as a runner or cut into smaller pieces and use as placemats.
You could also use dark green felt for a table cover or table runner, instead of the turf.  
Golf theme picture frames filled with family photos would be cute party décor for a golf themed party.

Use a golf bag filled with clubs as part of the party decor.

Use lots of different items that are golf related for your table decor or buffet table.  In addition to the things I used for this table, you could add a pair of golf shoes to the centerpiece, slip a golf shirt on the back of each chair, make a flag stick out of scrapbook paper, etc.

A great party idea would be golf related games to get the whole family involved. Maybe a putting contest in your backyard??

If you wanted to have a surprise golf theme party, you could schedule a game of golf to keep the birthday boy or girl occupied while you set up the party.

Be sure and subscribe so you don't miss other ideas and inspiration!!
gift ideas for Father's Day
A round of golf at dad's favorite golf course would be a great gift.
or
A ball basket filled with some of dad's favorite things.
father's day dinner menu
This particular fathers day table is for a backyard bbq, but you could also use these ideas for a father's day brunch or a nice dinner.

My dinner club will be making Smoked Country Style Pork Ribs, Old Fashioned Baked Beans, a delicious Pasta Salad, Grilled Pineapple Salsa, Bourbon Bread Pudding and a Long Island Iced Tea Cocktail for our "Happy Father's Day" barbeque.

Be sure and check back on Thursday for all the amazing recipes to host your own barbeque for dear ol' dad and click on the photos below to see all of my dinner club friends Father's Day table ideas.

I hope you enjoyed this post and found inspiration for how to create a golf theme table for Father's Day.
blessings,
Midwest Life and Style, Simply 2 Moms, The Ponds Farmhouse, Bricks N Blooms,
Pasha Is Home, Vintage Home Designs
If you enjoyed this post, be sure and Pin It to remember it….
shop this post

Here are a few other past dinner club tablescapes, you might enjoy. Just click on the photo to go right to the post.