How To Create a Vintage Tablescape for Christmas Breakfast
It's tablescape day for my dinner club and today we're sharing ideas and inspiration for a holiday breakfast. I had so much fun creating this table and want to share how to create a vintage tablescape for Christmas breakfast.
If you're coming over from Stacy at Bricks N Blooms, welcome. I'm so glad you are joining us.

And wasn't her table and centerpiece so elegant and beautiful?
This post contains affiliate links, which means if you purchase something, I will make a small commission at no additional cost to you. Thank you for supporting my blog. You can read my full disclosure here.


And I want to welcome Pasha from Pasha is Home as our guest host this month. You don't want to miss the beautiful and creative tablescape and ideas she is sharing.
How to create a table centerpiece…
For my holiday table centerpiece I decided to use some vintage treasures that are a bit unconventional for table decor.

If you step outside the box when you're designing a tablescape, that's where the magic happens.

Choose an inspiration piece, and go from there. The ideas will begin to flow once you have some direction from your theme and focal piece.
vintage Christmas breakfast table centerpiece
For my Christmas table centerpiece, I started with 2 vintage table runners.

I didn't have a single one that was long enough for my dining room table, so I used 2 and placed them end to end.

They weren't even the same fabric, but since they were the same color and width, it worked just fine. It also added to the eclectic vintage feel I was going for.

Next up, was 2 empty vintage frames. One large oval and one large rectangle frame was placed on top of my table runner and overlapped, just a bit.


Within the spaces of the frames, I put my serving dishes. I used pieces of my ironstone collection, a silver tray and a footed cake stand with a glass dome.

The cake stand with dome works perfect for scones, muffins, english muffins, bagels, etc.


A vintage silver tray holds small glass jars of yogurt. I just used store bought jars of yogurt, but you could make parfaits in pretty containers to take it up a notch.

And a covered soup tureen can hold eggs, biscuits, gravy or anything you want to keep warm. It also would work well for serving a bowl of fresh fruit.

I wanted this Christmas morning breakfast table to be casual, so serving family style right from the center of the table, seemed appropriate.

Two sets of vintage salt and pepper shakers were placed along with my serving pieces for easy access for all guests.
additional touches for a vintage Christmas centerpiece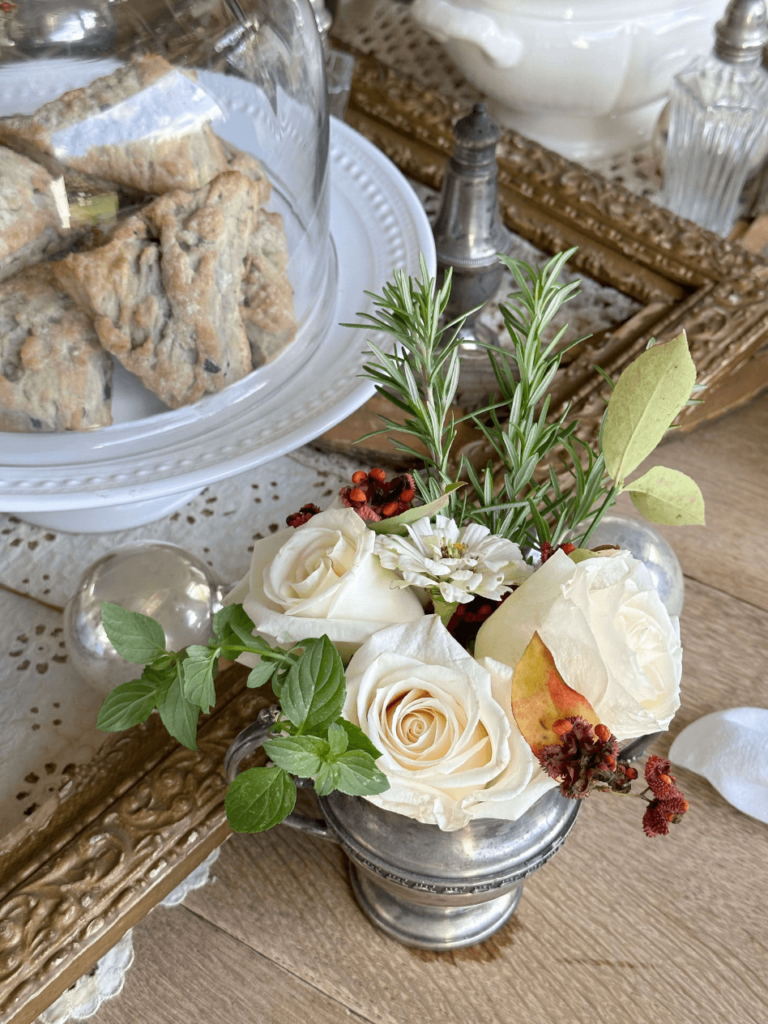 To add a little touch of Christmas to this centerpiece, I added silver vintage Christmas balls randomly down the center of the table.

I also made small flower arrangements in vintage silver containers. White flowers and a few stems of red berries were perfect for this neutral Christmas breakfast table.
place settings for a vintage tablescape
My collection of round silver trays worked perfectly for this vintage table.

A silver tray was used as a plate charger at each of the table settings.

A white dinner plate from my collection of thrifted dinner plates was layered with a clear dinner plate from the dollar store.

In between the plates, I placed a Christmas tree shape cut out of vintage sheet music.

I love to cut shapes out of book pages and sheet music to use in so many different ways.

You can see how I use them for my holiday gift wrapping here.


They added a little whimsy and unexpected element to this vintage Christmas table.

A couple of years ago I found white Santa mugs that are a fun reproduction of the old vintage santa cups.


Hot tea, coffee or hot chocolate would be so fun served in these, and they added a great touch for Christmas breakfast.

Collected silverware came in handy for this table, as well.


vintage collections for a tablescape
Shopping thrift stores and estate sales is one of my favorite things to do. I have found so many amazing things over the years and added to my collections without spending a lot of money.

I've been collecting vintage silverware and serving pieces for years. Whenever I see them at thrift stores, flea markets or estate sales for a great price, I pick them up.

Over the years, I have accumulated a large collection.

Also, collecting white dinner plates from thrift stores is a wonderful way to have a very inexpensive collection of plates for entertaining.

Since they are white, you can use them for any theme, occasion, or color scheme.

I highly recommend starting a collection of them. Whenever you're near your local thrift store, pop in and take a look. I'll bet you'll be glad you did!!


I also started collecting rhinestone vintage broaches and buckles many years ago. They make beautiful napkin rings!

For this table, I used my off white linen napkins and pulled them through one of the broaches/buckles.

It was the perfect finishing touch for my holiday tablescape!
Other frequently asked questions…..
How do you make a table look Christmassy?
There are so many budget friendly was to make your table look festive for the holidays.

One way is to add a faux greenery garland down the center of the table to start. Or you can add fresh greenery if you prefer.

Maybe you have access to greenery in your yard or neighborhood, or you can stop by a tree stand and they will usually give you some trimmings.

Then add Christmas ornaments or large bells sprinkled in like I did for this Christmas dinner table.


Candlesticks also add a festive touch and the candlelight adds a nice atmosphere and cozy element.

Use your imagination and Christmas decor you already have in those holiday bins.

Just remember, you don't have to spend a lot of money to create a beautiful table.

How do you set up a rustic Christmas table?
If you want to create a casual and rustic Christmas table, consider using woven placemats or even large round wood slices for plate chargers.

Natural elements such as pinecones, acorns, and horse apples add an earthy and rustic touch like this woodsy tablescape I created last year.


Greenery and casual napkins are other elements you can use for a rustic tablescape.

Other fun and unusual elements might be a cowhide rug as a table cover and deer antlers as part of your centerpiece.
How do you decorate an elegant Christmas table?
For an elegant Christmas table consider using metallic elements.

Brass or silver candlestick holders, metallic Christmas balls, and large gold bells like I used on this Christmas table make beautiful elegant centerpiece options.


A tinsel garland in gold or silver down the center of your table would add a bit of sparkle and elegance too.

Using white tablecloths, white dishes, and/or beautiful white napkins with a metallic napkin ring are other good ideas for an elegant table.

Fresh flowers are also a great addition to a dinner party table.

And don't forget the candles! They always add a touch of elegance and create a beautiful atmosphere for your dinner party.
Christmas Breakfast Menu
Be sure and check back on Saturday when my dinner club shares our menu for Christmas breakfast.

We have everything from a fun cocktail, a yummy breakfast casserole, a delicious dessert, just to name a few.

I hope you've enjoyed seeing how to create a vintage tablescape for Christmas breakfast and join us Saturday for a fun holiday breakfast menu.
Next up is Jen from Midwest Life and Style with a fun gingerbread house theme tablescape!

Click on the link below each photo to see all of my friend's Christmas tablescape ideas.


Be sure and Pin It to remember it….
shop the post