Rustic and Cabin Inspired Christmas Table Setting Ideas
It's tablescape day for my dinner club and this month we're hosting a "Christmas at the Cabin" themed dinner party. I incorporated lots of natural elements and can't wait to share some rustic and cabin inspired Christmas table setting ideas with you.
This post contains affiliate links which means if you purchase something, I make a small commission at no additional cost to you. Thank you for supporting my blog. You can read my full disclosure here.


I love using natural elements in my home decor and tablescapes.

There's just something gratifying about walking into my own yard or garden and cutting things to bring inside and use for decor.

I even enjoy walking through my neighborhood and picking up things like acorns or pinecones or cutting cedar or pine branches to use in arrangements throughout the holidays.

Not only are the natural elements beautiful, they add character and best of all it's free!

Did you know that during the holiday season when Christmas tree lots are set up they will typically give you cuttings for free??

I have stopped many times and offered to purchase cuttings, and they have always just given them to me.

If you don't have access to fresh greenery, it's a great way to grab some to use for the holidays for your Christmas decorating.

Not only does it look beautiful in your decor, it makes your home smell amazing!
rustic and natural place settings for Christmas
For this rustic look Christmas table, using things from nature seemed like a great addition.

Twig placements were the perfect foundation for my place settings.


Next, I layered 2 white dinner plates of slightly different sizes. The smaller plate on top has a beautiful pinecone and pine sprig design.

I found 6 of these plates at a thrift store last year for only a few dollars.

Thrift stores are a great way to add some unusual plates to your collection for very little cost.

The design on the plate was part of my inspiration for this table.


My collection of green vintage goblets worked perfectly with the place settings.

And a plaid napkin tied with twine and a pine sprig tucked in was placed on top of each plate.

This was a great alternative to a traditional napkin ring and a perfect place to incorporate fresh greenery for this rustic Christmas table.


The finishing touch to my rustic and cabin inspired place settings was a small wood slice used as a pinecone place card holder.

I simply used a large bleached pinecone and a brown gift tag with the name of each guest written on the tag.

The wood slices were left over from a wedding I coordinated years ago. They were going to be tossed out after the wedding and I salvaged them because I couldn't stand to see them go in the trash.

Wood slices were the perfect hint of "cabin" for this rustic table setting.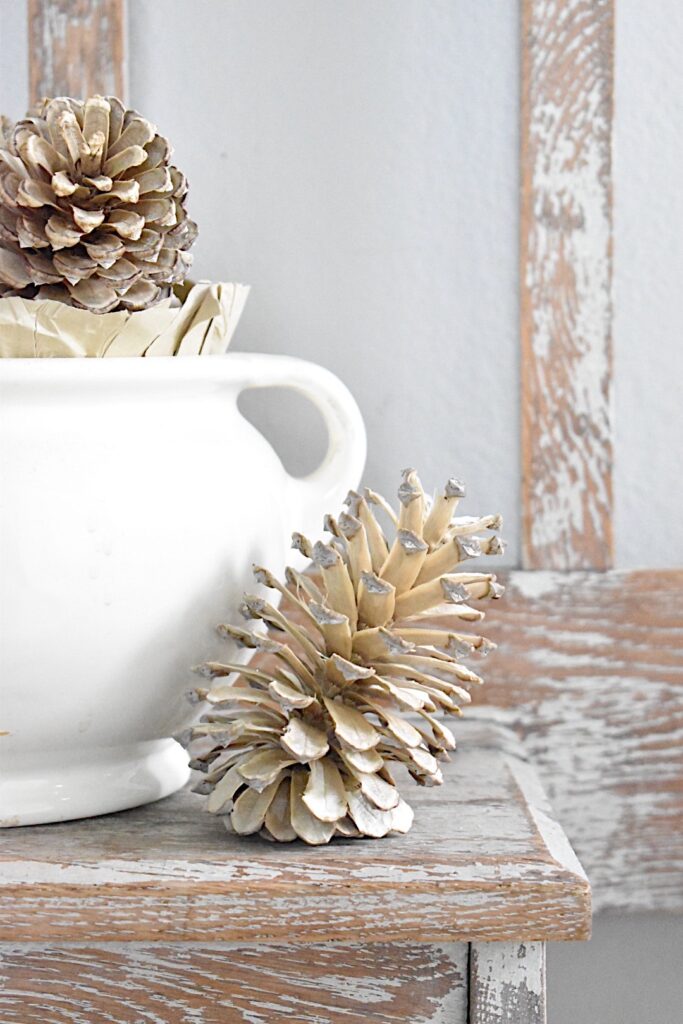 If you don't know how to bleach pinecones, I have a simple DIY project with step by step instructions.

I use them so often in my fall and holiday decor for so many different things.


Last month I used them to label the different types of pies on my Thanksgiving Pie Buffet table.

They add a fun and unique element to any fall, Thanksgiving or holiday tablescape used as a holder for name cards or food label cards.



They are beautiful just stacked inside a bowl. I also like to stand a single bleached pinecone inside of a teacup in my china cabinet for fall decor.

I have also used them many times for tablescapes to add a casual or rustic feel.
Pinecones also make great rustic Christmas decorations. Just add an eye screw to the large end of a pinecone and tie a beautiful ribbon and hang on your tree.
other natural elements to use for a tablescape
There are so many options for natural things to bring in from outdoors to use in your home decor and for tablescapes.

I've mentioned several already, but here are a few more you might enjoy incorporating into your own home.

Tree branches – I love using tree branches as part of a centerpiece. It adds drama and height instantly.
You can see here I like to use all different kinds of branches.

Oak leaf branches, branches without leaves, branches filled with fresh green leaves, peach blossom branches and even a few bare branches tucked into my Christmas tree topper.

Sweet gum balls and acorns – Fill vintage bowls with these for a touch of fall or sprinkle around a fall or holiday table for added layers.

Leaves – The possibilities are endless with leaves.


I gathered some huge leaves from a parking lot several years ago and used them at place settings for a fall tablescape.

I saved them until the next year just to see if they would still look ok.

Those leaves have been used for about 4 years now, and still look just as good as the first year.

They have been used on so many table settings in different ways.

I have also used oak leaf branches and made them into wreath. It turned out beautiful for my fall decor, then I spray painted it gold to use at Christmas time.

Dried hydrangeas – This is one of my favorite dried decor elements!


I have a limelight hydrangea bush in my yard and I love cutting them at the end of their growing season, putting them in a vase to enjoy fresh, then letting them dry to use for fall and Christmas decor.

I use them in baskets, vases, and even tuck them into my Christmas tree and incorporated into my tree topper.


I also like to make wreaths with them and tuck them into fireplace mantel or front door garlands.

I made 2 of these huge wreaths using a grapevine form and dried hydrangeas to hang on the large barn doors in my living room. I love the statement they made and they cost very little.

I have even spray painted them gold for a more elegant table centerpiece.

Grapevine – This is fun to wind down the center of a casual tablescape.

I have also used it wound loosely around my Christmas tree.


Moss – I don't have access to real moss in my yard, so I order preserved moss on-line because I use it so often.

One of my favorite ways to use it is in clear glass trays beside a place setting to hold silverware.

I also like to tuck moss into a candlestick to hold a taper candle. It adds a fun and unusual element and it also helps hold the candle in place.

Horse apples – these are also referred to as mock orange, hedge apple, crab apple, and monkey balls, just to name a few. They grow on a tree called bois d'arc.

I have these growing on a tree behind my house.

They are a bit of a pain when they fall in your yard, because they have to be picked up before the lawn is mowed.

However, they are a beautiful bright green color and look amazing for seasonal home decor.

A couple of years ago, I incorporated them into a woodlands theme table scape and it is one of my favorite table settings I've ever created.


Then, I spray painted them gold to use for an elegant green and gold Christmas table.

It was a great way to add gold detail.


They turned out great and were beautiful Christmas table decorations and other than a small can of metallic gold spray paint, it was free.

I don't know about you, but free is one of my favorite things!!
cabin inspired centerpiece for a Christmas table
I chose the dining table on my back patio for this Christmas table scape.

It seemed appropriate since it is a rustic, cabin and outdoorsy themed table.

I used a neutral plaid throw in place of a tablecloth or table runner, and placed it across the table at an angle.

The plaid pattern went so well with the theme and look I was going for.

I didn't have a tablecloth or runner that worked, so I improvised.

I love thinking outside of the box when I am decorating my home or a table. And, this is a great example of looking around your home for things you already have and using them in a different way.

It gives the decor, tables, and vignettes in your home so much more character and adds a unique element to your decor.

I mentioned earlier that the plates with the pinecone and pine sprig design was one of my inspiration pieces for this table.


The other inspiration was a small collection of vintage thermoses I have.

Since I was going for a "cabin inspired" table, they were the perfect addition.

Two of the thermoses were used in the center of the table as a vase.

One on top of a small vintage sled and the other on top of a large wood slice. Another piece that was part of the wedding decor I salvaged years ago.

I cut fresh greens (cedar and pine branches) from my neighborhood to create a casual arrangement for each thermos.

The other 2 were used to hold candles.

One of them had a large opening so I added a pillar candle. The other had a small opening, so a taper fit just right.

Using moss to anchor the candles added another earthy element and also kept the candles in place.

Deer antlers that were my stepfathers were placed randomly in the centerpiece to add a woodsy element.

Grapevine was wound loosely throughout my centerpiece and down the center of the table.

More pine cones were scattered throughout the table setting to finish off this rustic and cabin inspired Christmas table setting.

And lastly, for the finishing touches, I draped neutral plaid throws over several of the chairs to carry out my cozy cabin theme.

I hope you enjoyed these rustic and cabin inspired Christmas table setting ideas .


Be sure and take a look at all of my dinner club friends tables for lots more ideas and inspiration. Click the link at the bottom of each photo to go right to the post.

blessings and happy holidays,

If you enjoyed this post, be sure and Pin It to remember it….
shop the post

If you liked this tablescape, you might also like this woodsy themed tablescape.