Stamped Egg Place Cards for a Spring Table
Ya'll this is the easiest DIY ever!!! I made these stamped egg place cards for a Spring table and they turned out so cute!!

Follow along and I will show you how I did it. You won't believe how simple it is!
I made mine for an Easter tablescape, but these would be so cute for any spring table.
supplies for stamped egg place cards
This post contains affiliate links which means if you purchase something, I make a small commission at no additional cost to you.  Thank you for supporting my blog.  You can read my full disclose here. 
I used real farm fresh eggs (uncooked) but, of course, you could hard boil the eggs. You can leave them the natural color, use white eggs, OR…. you could dye the eggs a fun color!! Or all different colors!!

Another option is to use wooden eggs or papier mache eggs if you prefer not to use the real ones.

That way, they would last forever and you could reuse them every year.

I used a small lower case letter stamp and one letter at a time, stamped the name of each guest. I just eyeballed it, and didn't have a guide for keeping it perfectly straight.
directions for stamped egg place cards
Just load your stamp with ink, and press the letter onto the stamp, making sure the entire letter is touching the surface of the egg.

I used black ink, but you can use whatever color ink you like. The ink pads are available in so many colors.

And that's it!! See how easy that was.
ways to use your stamped eggs


I filled a vintage stemmed glass with moss and cradled the egg inside and put at each place setting for my Easter table.

You could get creative with what to display them in and just use something you already have.

I think another fun idea is to put inspirational words on them, and fill a bowl or urn.

It makes super cute Spring or Easter decor. Obviously, the real eggs wouldn't last as long, so you would want to use wooden or papier mache eggs if you want them to last for a while.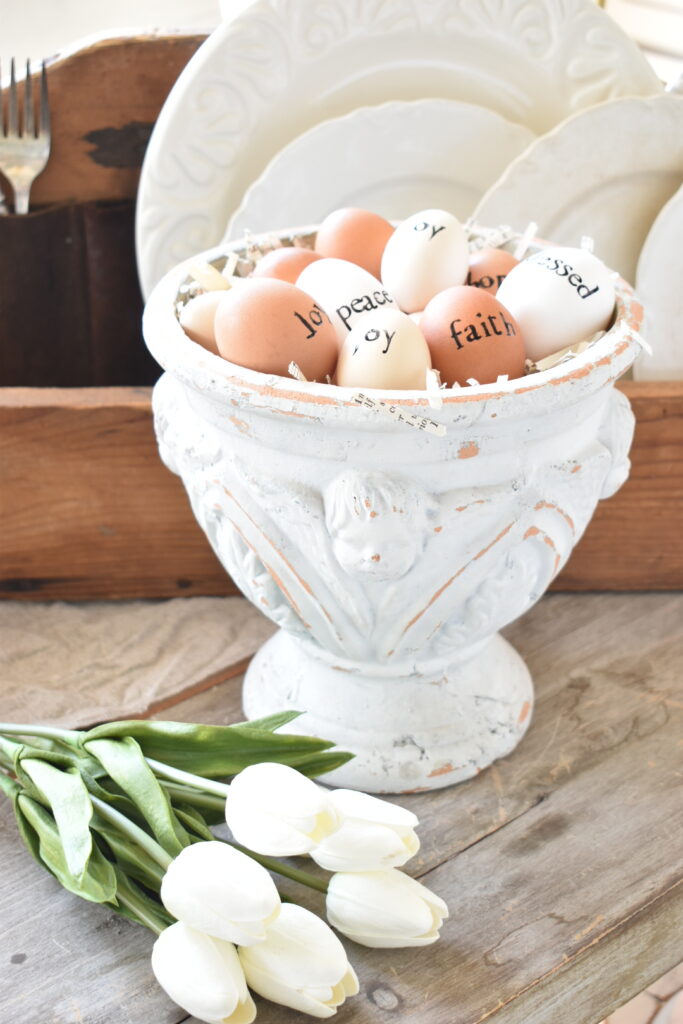 I hope you enjoyed this tutorial for stamped egg place cards!

Take a look at my Spring Tablescape to see how I used them on my Easter table.

Let me know if you try some, because I love hearing from you.

Leave a comment and let me know how they turned out! And I would love for you to follow me on Pinterest, Instagram and Facebook.

Be sure and subscribe to the blog, so you don't miss a thing! I love sharing inspiration, DIY's, and home decor ideas with you.


blessings,
Pin It to remember it……
shop the post