The Best Creative Serving Ideas for a Fall Party
Do you need entertaining ideas for the remainder of the fall season?? I have some of the best creative serving ideas for a fall party to share with you.

I don't know about you, but I just love hosting a get together with friends in the fall.

The crisp fall weather makes it the perfect time of year to have an outdoor party.
This post contains affiliate links which means if you purchase something, I make a small commission at no additional cost to you. Thank you for supporting my blog. You can read my full disclosure here.


Last year, I made an ice bucket out of a foam pumpkin.

It was so easy to make and turned out so cute. More about this below.

I decided to use the same type foam pumpkin and make a holder for bag wine.

I know a lot of wine drinkers aren't fond of boxed wine, but it's a perfect way to serve a lot of people and keep it budget friendly.

There are some other options for using this pumpkin wine bag holder, if you aren't a wine drinker and refuse to serve boxed wine.

This faux pumpkin wine bag holder is my favorite fall serving DIY ever!
supplies for pumpkin wine bag holder
13″ foam pumpkin
box cutter
sharp knife
beverage stand
directions for making a creative wine server from a foam pumpkin
Using a box cutter, you want to score a line around the top of the pumpkin where you want to remove the top.

You will need an opening about 8″ wide.

Then, use a sharp knife to carefully cut completely through to remove the top.


Next, using the same method, cut a circle shape opening about 2″ in diameter close to the bottom of the pumpkin. This is where the spigot will come out.

Remove the bag of wine from the box, and gently place it inside the pumpkin.


You will need to carefully work from side to side placing the bag into the pumpkin so you don't break the bag.

Next, pull the spigot through the 2″ hole you have cut.

You may have to trim away a little if you haven't cut an opening quite large enough for the spigot to fit all the way through.


Replace the top, place on a beverage stand to raise the spigot high enough to fit a glass underneath it.

And that's it!

Now you have a super cute serving idea for a fall party.

You can use this same idea with a real pumpkin, but it is very messy.

The best part is, by using the foam pumpkin, you can save it to use from year to year.
other ways to use a foam pumpkin for serving drinks
If you aren't a wine drinker or you don't want to serve boxed wine, the good new is you can order an empty bag with a spigot and fill with whatever drink you like.

You could certainly add your favorite wine, or you could mix up pumpkin apple cider sangria or a fun cocktail for a fall dinner party.

Wouldn't it be so much fun to make up several of these pumpkin wine holders, add different wines and have a wine tasting party?

Or, how about making one of these for a tailgate party during fall football season?

A non-alcoholic punch for a shower or party is a great idea too.

And what about apple cider for a Halloween party or fall-themed party?

You can add a kid friendly drink, like lemonade or kool-aid.

This cute serving pumpkin would be a great option for serving water too.

It would be cute for a pumpkin carving party or Halloween party if you add a jack o lantern face on it.

You could use a sharpie marker and draw a face or cut shapes out of black adhesive and stick on.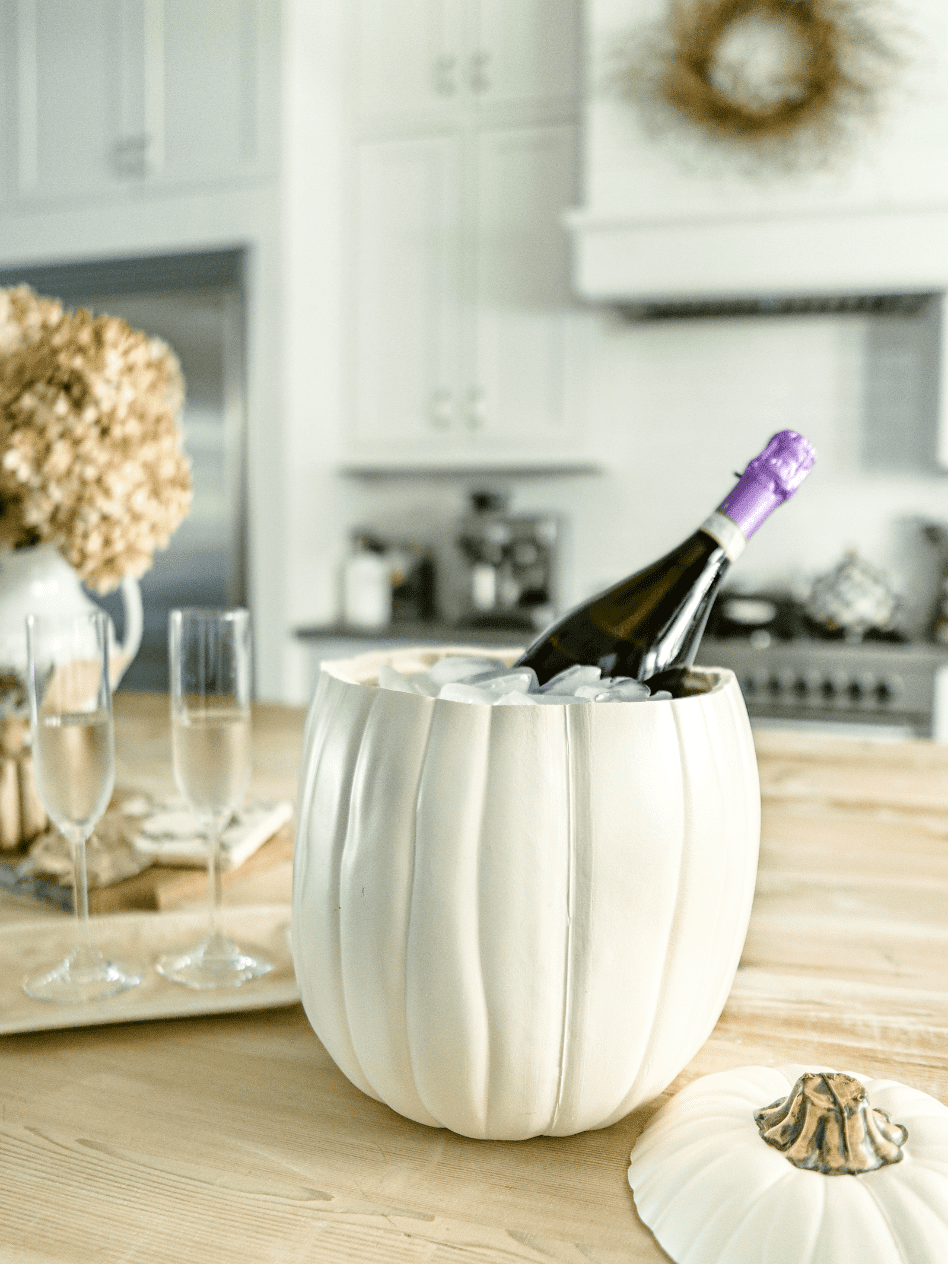 If you missed my pumpkin ice bucket DIY, you can see all of the details here.

But basically all you need is a 13″ foam pumpkin.

These pumpkins come in white or orange.

I chose the white one since most of my decor, even seasonal decor, is neutral.

This pumpkin container can be used to fill ice, ice down water bottles or soft drinks, or chill a bottle of wine or champagne.

If you want to use it for an ice bucket and are afraid of the inside of the pumpkin not being food safe, you can line it with a plastic wrap. Then just add an ice scoop and you have a quick and creative fall ice bucket.
the best serving ideas for a fall party
Here are a few other fall serving and entertaining ideas for fall holidays…

Simple and unique place cards for a fall table –


These place cards are perfect for any fall party.

They are so simple to make and add a unique touch to each place setting.

You can make them ahead, as soon as your guest list is finalized.

Or, you can also use them for seasonal quotes instead of a guests name.

Try using these at your Thanksgiving dinner for a finishing touch to your table setting.

They make great conversation starters.




Make my favorite cheese ball recipe and shape into a pumpkin.

Use a fat pretzel or a real pumpkin stem for the stem of the pumpkin shaped cheeseball.

I like to save the pumpkin stems from my real pumpkins each year.

Just cut the stem off before you throw the pumpkin out.

Cut as close to the stem, leaving as little of the pumpkin meat, as possible.

Lay them out of a paper towel to dry for several days.

When they are completely dried out, you can store them to use for next years projects.


These dried pumpkin stems are a great way to make a faux pumpkin look so much more realistic. Just remove the plastic stem on a faux pumpkin and hot glue a real stem.

Like I mentioned above, I like to add a real pumpkin stem to a cheeseball shaped like a pumpkin for a unique touch.

The tiny pumpkin stems from the mini pumpkins are perfect for this.

You might also like this adorable pumpkin placemat DIY that my friend Wendy from WM Design House created.
more of the best creative serving ideas for a fall party plus some tablescape inspiration
How To Set a Fabulous Pie Buffet Table for Thanksgiving….

Easy Ideas for Creating a Simple Fall Tablescape…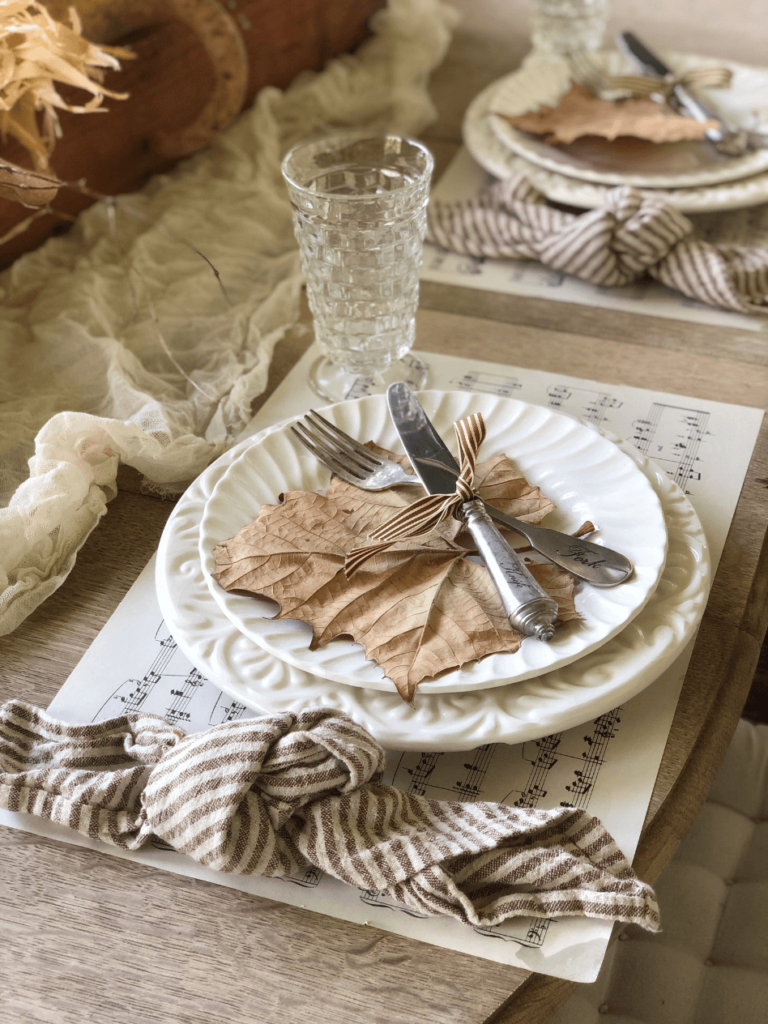 An Outdoor Fall Party Tablescape….


A Woodsy Theme Tablescape for Fall….


Easy and Unique Ideas for a Chili Cook-Off Party…
and a few of my favorite fall recipes…
These recipes are a good idea for any fall gathering.

As soon as cooler weather is in full swing, one of my favorite things is to invite friends or family over.

Whether you are gathered around a fire pit, watching a football game or just enjoying conversation these recipes are perfect, and sure to be crowd pleasers.
The Most Amazing Pumpkin Cheesecake…


Pumpkin Buttermilk Pie with Cinnamon Whipped Cream…
Easy White Bean Chicken. Chili Crockpot Recipe…

I hope you've enjoyed seeing some of the best creative serving ideas for a fall party and try some for your own fall gatherings!

blessings and happy fall,
If you enjoyed this post, be sure and Pin It to Remember It…
shop the post