The Best Fall Harvest Salad
I love a good salad, and this one doesn't disappoint!! I have been making this wonderful salad for years and you can change it up a bit with the seasons, so let me share the best fall harvest salad with you, because I think you're going to love it too!!
This week my dinner club group shared our fall harvest tablescapes. Just in case you missed them, you can see mine here, and follow the links at the bottom of the post to see all the others. So much fall inspiration there!!
This post contains affiliate links, which means if you purchase something, I will make a small commission at no additional cost to you. Thank you for supporting my blog. You can read my full disclosure here.

If you are popping over from Jen at Midwest Life and Style, welcome! I'm so glad you are here, and didn't her Turkey Apple Cheddar Panini look delicious? I can't wait to try all the recipes from this month!
the menu
Roasted Corn Dip

Turkey Apple Cheddar Panini

Fall Harvest Salad

Cranberry Apple Pasta Salad

Persimmon Pudding


salad dressing
The dressing for this salad is an Apple Cider Vinaigrette. I not only use this dressing on this particular salad, but on lots of other salads I make.

Print
Apple Cider Vinaigrette
So easy and delicious, this recipe is wonderful on most any salad!@
Ingredients
1/3

cup

apple cider vinegar

1

cup

canola or vegetable oil

1/4

cup

sugar

1

teaspoon

salt

1

teaspoon

dry mustard

1

teaspoon

onion powder
Instructions
Combine all ingredients in a container with lid and shake well.
Notes
I like to add the seasonings to the apple cider vinegar and mix well before I add the oil.  This seems to keep the dry ingredients from clumping and not mixing together well.  
sugared pecans
I typically make my own sugared pecans and use this method. However, they are readily available at the grocery store if you want to make this salad even easier.



I use pecan halves and soak them in water for about 5 minutes.

Then drain and lay out on a baking sheet.

Sprinkle with sugar and mix around to coat them well. I used about 1/4 cup sugar for an 8 ounce bag of pecans.

Bake at 350 degrees for about 7 minutes, then stir them around and bake about 3 minutes more.
creating your fall harvest salad
Here's where you can get really creative!

For my fall harvest salad I decided to use apples, pears and goat cheese along with the sugared pecans.

I started with a mixture of salad greens, layed my apple and pear slices on the top, then sprinkled with the pecans and goat cheese.

I let each guest dress there own salad instead of putting dressing on the entire salad, so it won't get soggy.

v

ariations of the fall harvest salad
I change up the fruit and toppings on this salad depending on the season. Also, I will sometimes change up the greens. Fresh spinach is a great option.

Some of the different ones I use are:

apples, dried cranberries, goat cheese

peaches and goat cheese – sometimes I just slice fresh peaches and sometimes I grill the peach halves. The grilled peaches are delicious with fresh goat cheese and sugared nuts.

strawberries, feta cheese and rosemary cashews or sugared pecans.
strawberries, fresh basil, and feta cheese


Really, the sky is the limit. Just experiment and add combinations of things you love.

I hope you have enjoyed the recipe for the Best Fall Harvest Salad and give this beautiful and delicious salad a try!

Next up on our menu tour today is Robyn at Robyn's French Nest. She is our guest host this month and we are so happy to have her! She made a delicious Cranberry Apple Pasta Salad. I can't wait to try it!

Be sure and visit each account to see all of the amazing recipes!



blessings and happy fall!!
If you like the post, be sure and Pin It to remember it……..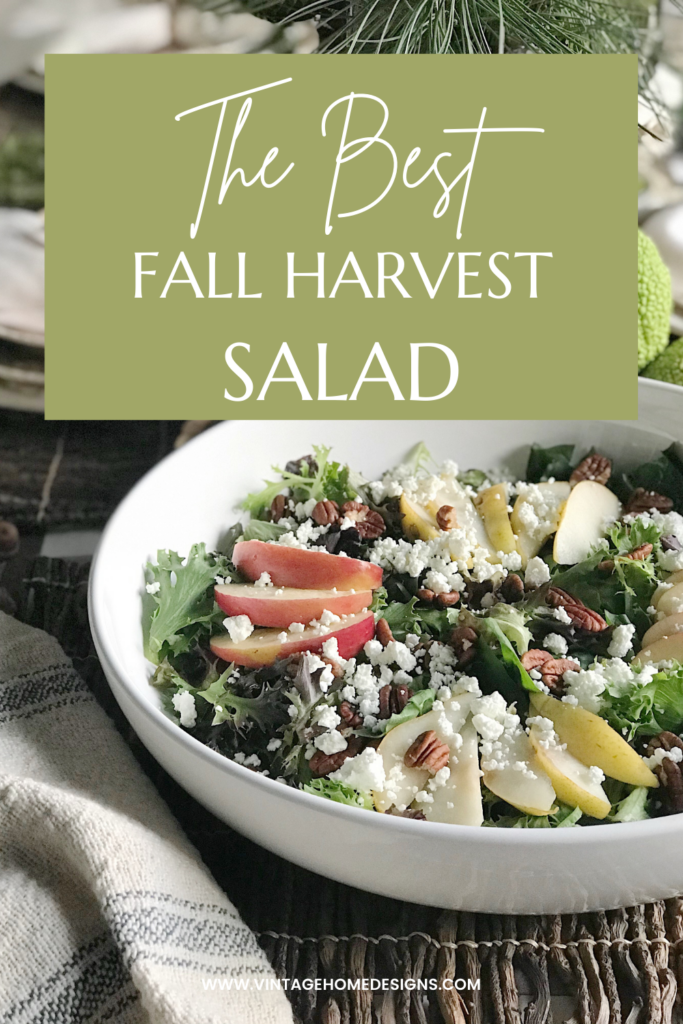 shop the post