The Most Beautiful Boho Wedding Reception
On Tuesday, I shared photos and details from my daughter's boho style wedding ceremony. Today, I want to share the most beautiful boho wedding reception.
And yes, I am totally biased since it was my daughter's wedding! But I think it turned out so unique and fit the bride and groom perfectly.

And that's really the goal right?? The wedding should be all about them!

Food, favors, and decor all reflected things they love and it turned out perfect!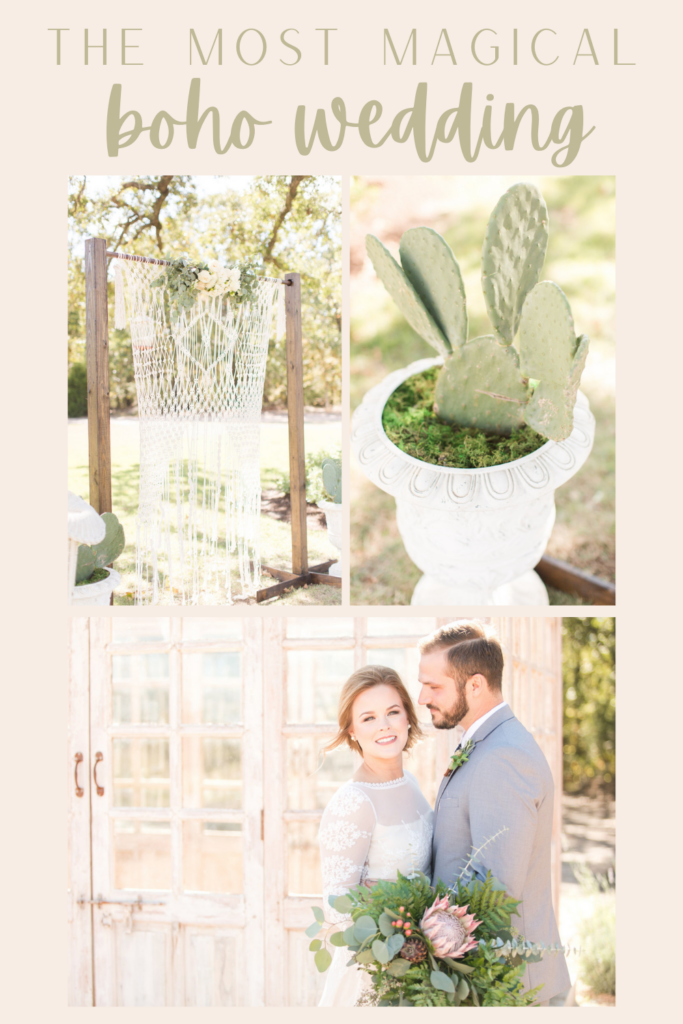 Come along and let me take you on a tour
of this beautiful boho wedding reception!


the reception venue
this post contains affiliate links. You can read my full disclosure here.
The wedding reception was held inside a white barn wedding venue called, The White Sparrow. It is so beautiful inside, very little decor is necessary.
the head tables


The head table was a long farmstyle table, and we used two of them. One on either side of a center aisle.

We potted so many cactus and succulents in terra cotta pots and created a "runner" with the pots down the center of the head tables. I'm pretty sure I was picking cactus stickers out of my fingers weeks after the wedding!

We placed vintage brass candlesticks with light gray tapers randomly throughout the potted cactus. I collected brass candlesticks from thrift stores for several months before the wedding.

I made a small macrame piece to hang on the back of the bride and grooms chair to distinguish where they would be seated. Since, I hadn't done macrame in years, I used a kit to refresh myself, then created these 2 small ones for the chairs.

A friend hand lettered place cards which were placed at each place setting at the head table. Since the bride and groom didn't have attendants, we used one of the farm tables for the grooms family and one for the brides family and the bride and groom were seated there, as well.
guest tables

All of the other tables were large rounds, covered with light gray tablecloths and had different centerpieces on each table. We used a combination of gold framed mirrors, wooden column bases, and macrame placemats to anchor the centerpiece.



The centerpieces were made up of a mixture of vintage brass candlesticks with gray candles, brown bottles filled with greenery or tealights, potted cactus, glass/brass terrariums, a large tillandsia air plant, deer antlers, and small white pumpkins (to add a touch of fall).

A few of the tables had a large greenery arrangement on top of a brass candlestick base.
I love how it all worked so well together, but no 2 tables were exactly alike.
We collected mix and match white dinner plates from thrift stores for almost a year. We gathered 300 plates, and rented gold flatware.


Thrift stores were also a great place to find 300 mix and match clear, amber and green vintage goblets. The napkins were a taupe colored gauze and were draped over each plate. A beautiful hand lettered thank you card was placed on top of the napkin at each place setting.
the dinner buffet
Since the wedding was on a Sunday and the bride and groom both love brunch, they decided on a brunch themed menu served buffet style with some of their favorite brunch things.

Chicken and waffle skewers, mini yogurt/granola parfaits, mixed pastries and fruit made up the menu.
A bloody mary and mimosa bar finished off the brunch theme perfectly!

bar area
We also served beer and wine during the reception. We set up a designated bar area and hung a "menu" over the bar. I purchased a canvas map wall hanging and had a friend hand letter the beer and wine selections.
cake table and dessert bar
The wedding couple decided on a dessert bar and a small wedding cake. We used a farmstyle table for the desserts and cake. Then we placed a small vintage table beside it to hold the plates, napkins and flatware.

We used vintage brass containers to hold square bamboo plates, small gray paper napkins and gold plastic flatware. All of the brass containers were purchased at thrift stores and garage sales.


The wedding cake was a "naked" cake with a small succulent topper. The groom loves pie, so we served tiny pies in some of his favorite flavors.
A vintage brass wine bucket held the champagne for the bride and groom's cake cutting toast.
The bride wanted some fun desserts for the kids, so we filled glass jars with oreos, ginger snaps and donut holes.
We used brown kraft paper as a runner and a talented friend hand lettered the names of each dessert.
wedding favors
For wedding favors, we wanted something that was useful to the guest, but also reflected the bride and groom.

Since both of them love coffee, they hired a coffee company to set up a coffee bar on the patio during the reception.

And the same talented friend hand letter a cute quote on a vintage mirror that I already had.


We started collecting mix and match coffee mugs from thrift stores and garage sales for an entire year before the wedding. We purchased 300 of them, and displayed them beside the coffee bar on a tall mug rack. The extras went in a wicker basket beside the mug tree.

The guests were encouraged to pick their favorite mug and have their chose of coffee served in their mug during the reception, then take it home as a favor.
the entertainment
We had a wonderful band at the reception, and the guests had a great time dancing and enjoying the music.
When the bride was a little girl, her favorite Disney show was Beauty and the Beast. She and her dad watched it so many times together.

The bride had decided not to have the traditional father/daughter dance, but we secretly arranged for the band to play the Beauty and the Beast song, Tale As Old As Time.
To say she was surprised is an understatment! It may have been my favorite part of the evening.
last dance and send off
At the end of the evening the bride and groom had a private last dance,
followed by a sparkler send off. My dad, the bride's grandfather drove the bride and groom away in his 1928 Studebaker.
other wedding reception details
the guest book


The guestbook and gift table was placed outside the front of the venue. We draped the table with a turkish rug, and decorated with photos of the bride and groom, and a potted cactus.
I purchased a large Reader's Digest World Atlas at a Goodwill for $1.99. We used the Atlas as a guest book. Guests were able to write encouraging words, quotes or scripture right inside the book.

My mom made huge wreaths out of Elaeagnus branches from her yard. We hung 2 of them inside and out of the venue barn doors.
My mom, the bride's grandmother, is a very talented artist. She drew and sketched details during the wedding and reception. She gifted the drawings and watercolors to the bride and groom for Christmas that year.
And our precious friend, Meggie Taylor, did an amazing job with the wedding photography.


Meggie submitted the wedding to a magazine, and it was published in Bride's of North Texas Magazine the next Spring!


I hope you have enjoyed the boho style wedding ceremony and reception! Feel free to leave comments or questions. I love hearing from you!

blessings,
michele
If you liked the post, Pin It to remember it, and be sure and subscribe to the blog so you don't miss a thing!
shop the post